When it comes to decorating your home, you might be wondering what home decor style / interior design style you want to choose, how to go about choosing one, and some of you might even be wondering, what is a design style? Never fear. We're here with the ultimate breakdown of interior design styles to help you choose one that fits, understand the features of each style, provide tips on how to incorporate them into the space, and even work you through the finishing touches.
Just like a personality, interior design styles are an intricate and specifically combined set of characteristics, colors, patterns and pieces that are meant to evoke a certain feeling and capture a theme. The goal of a design style is to embody that theme and bring it to life within your space. Design styles can be based on certain historical periods, like the Renaissance, a particular region, like Moroccan design, or even a certain culture or community, like urban style. When it comes to choosing a particular interior design style, the goal is to pick something that speaks to you, makes you feel at home – whatever that feeling might be – and represents your home as an extension of your personality.
Often times, people go about choosing a style by simply looking through themes, common décor pieces, colors etc. For most of us, certain styles jump out, where other styles we may find an immediate clash with. If you're an eclectic type, you may find yourself wanting to mix styles. And although there are plenty of styles that blend well together, like a beautiful modern loft with glam accents, some styles are better left separate, like a Renaissance themed room with Asian décor. The goal is to create a fluid movement from one part of the room to the other, a harmony that makes you want to spend time in that space.
If you're just starting out, or looking to take a deeper dive into different interior design styles, take a look at our ultimate design style breakdown to help you understand the styles, and choose the one that's right for you.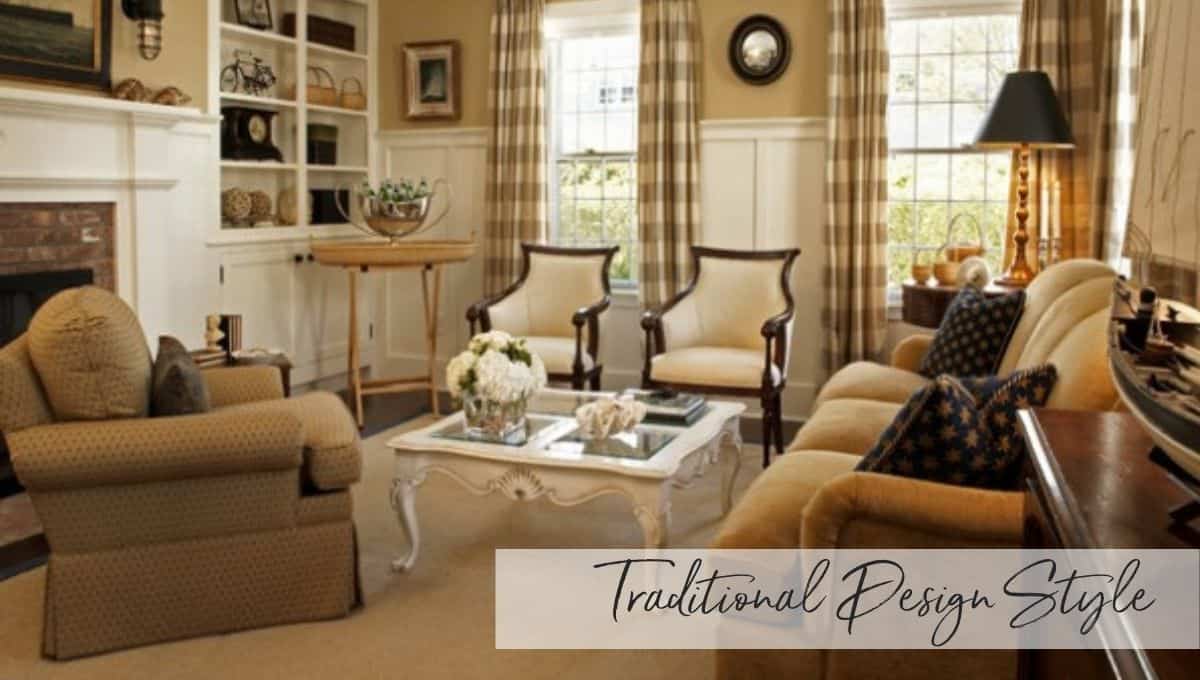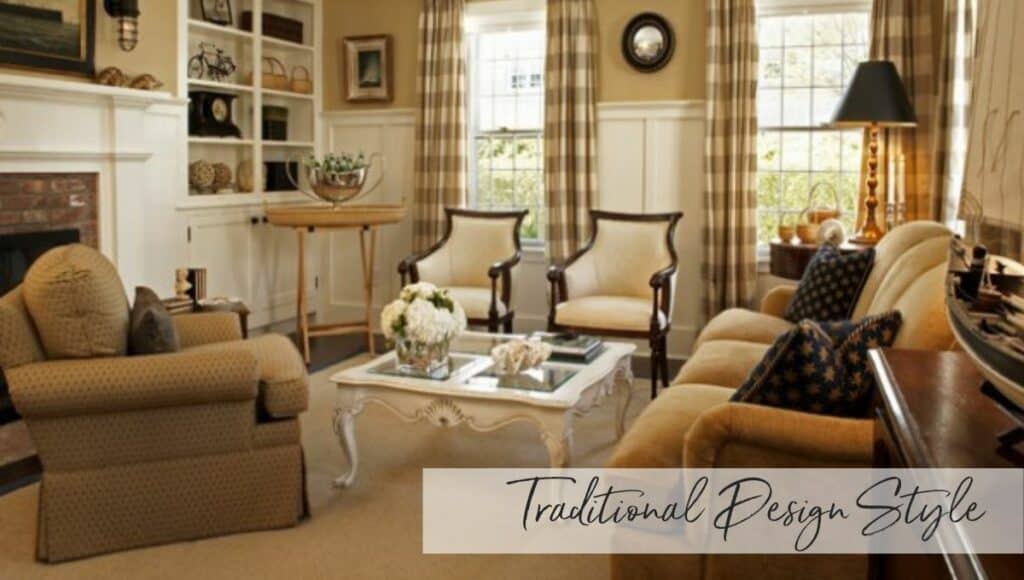 Traditional
Traditional style is an extremely common interior design style in homes. It is a warm, inviting, but not too bold look that feels classic. This particular style is characterized by lots of warm colors, symmetrical lines and plush furniture. But this is still the same home where a family can gather and feel comfortable; it's not overly complicated or ornate. When decorating using traditional style, matching sets are key. The goal is to have harmony, without too many pieces that stand out more than the rest. Traditional style often uses rich woods and metals, with warm yet neutral paint colors. For color, small accents and patterned throw pillows and blankets can be used to brighten up a room.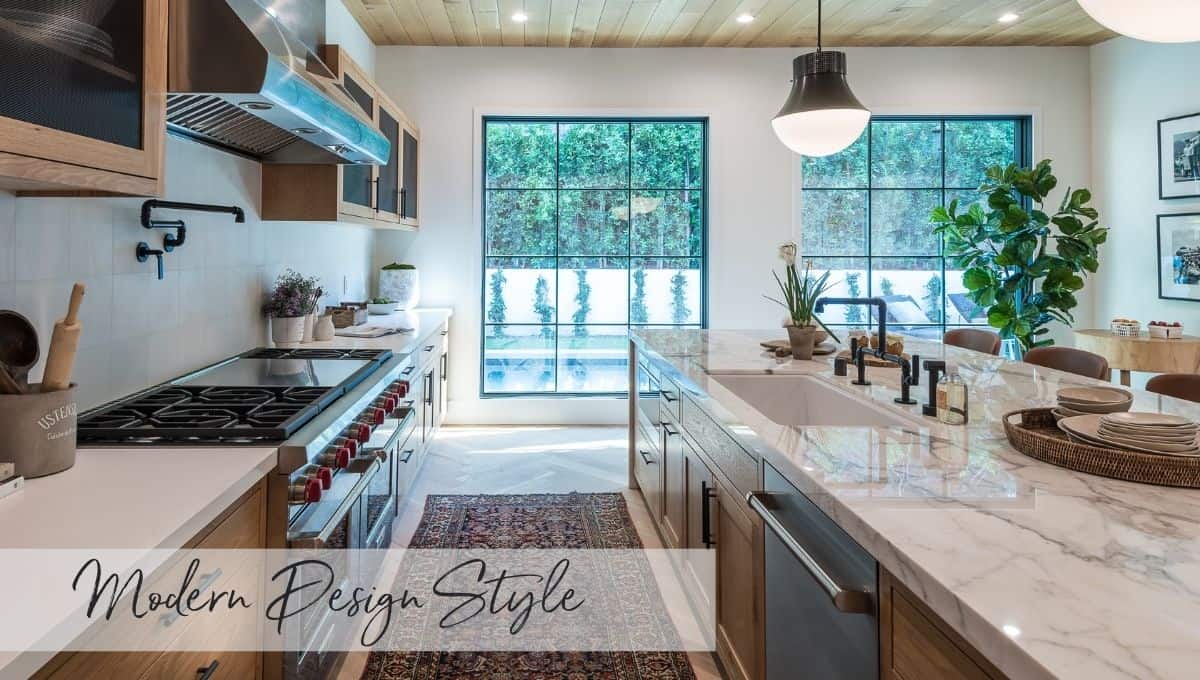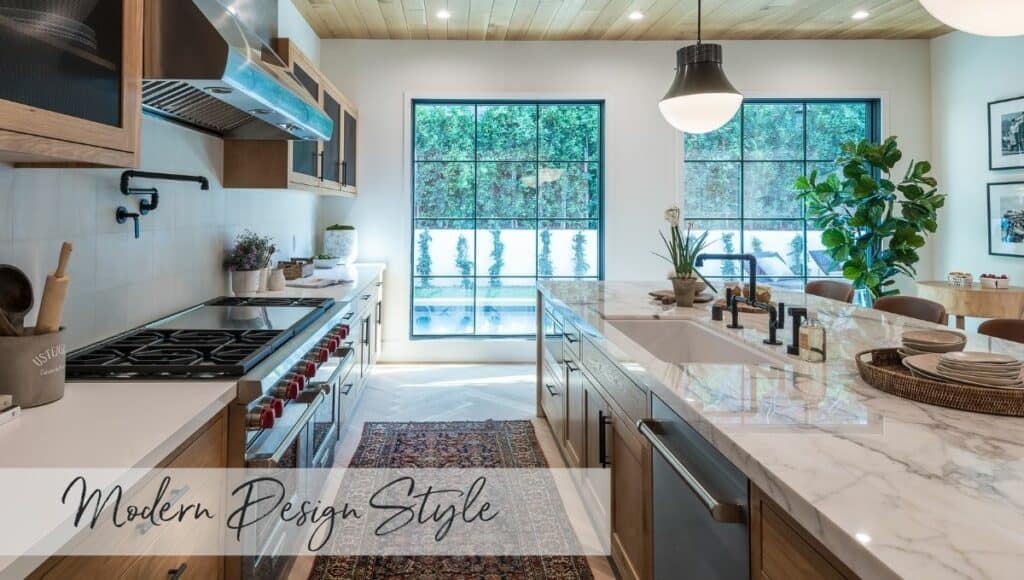 Modern
Modern style is often confused with contemporary style, as the word modern is often associated with futuristic ideas. However, modern décor style is about simplicity, natural colors, and earthy accents. The goal of modern décor style is to eliminate unnecessary clutter and embrace simplicity. When decorating with modern style in mind, its best to use natural light in any way you can, embrace exposed structural elements in the home such as wood or metal beams, and accent with natural décor pieces made of wood or fibers. With modern style, simplicity is key.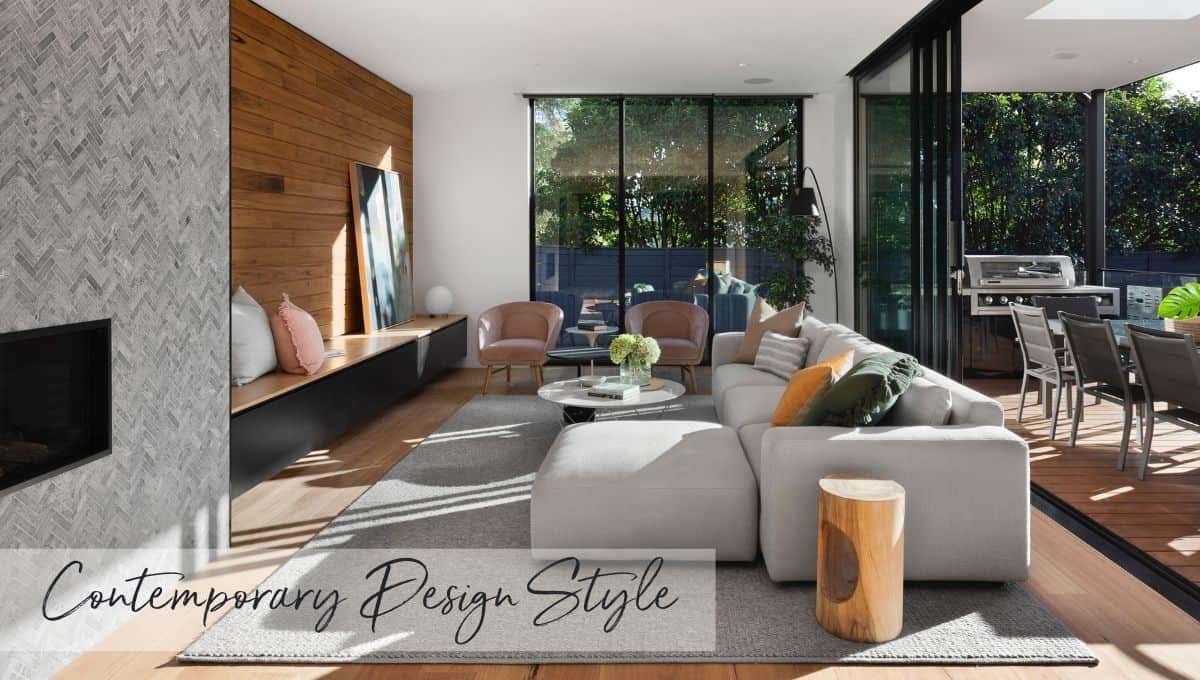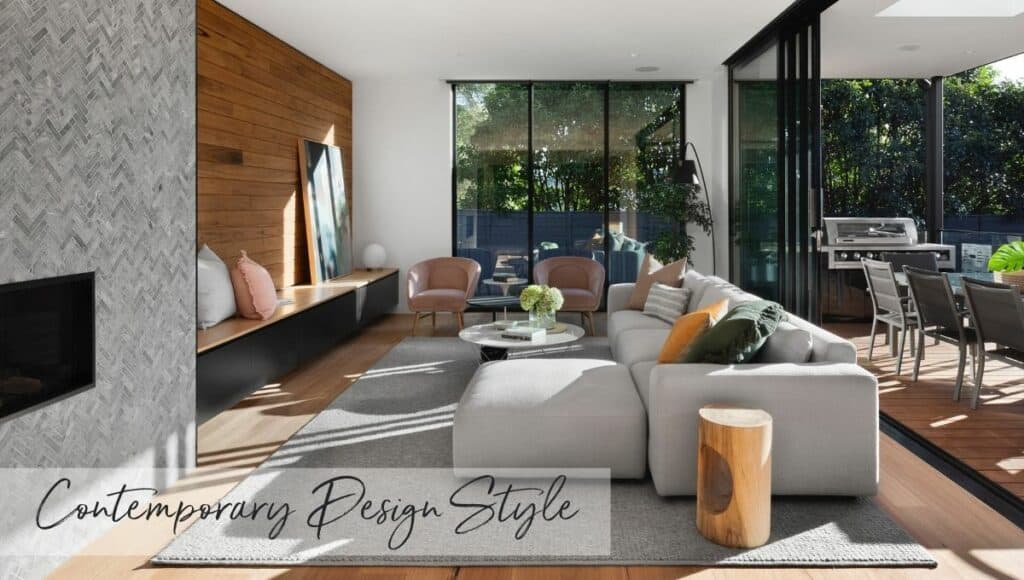 Contemporary
Contemporary style can be tricky, is it comes from what's in the moment. And what was in the moment while this style was being created, was often changing and combining different styles into one unique blend. But here's what we can say, the style is currently focused on neutral colors, bold lines, natural light, and bold accents such as an art piece. The goal of contemporary style is to take the best parts of different styles that have withstood the test of time. Which means that contemporary style, is never truly going out of style. This style of décor is a mix of function and form. You want your room to be useful for your needs, while still having a bold look of straight and curvy lives, or an architectural eyecatcher like an arch in a room. Contemporary style is like modern styles older, edgier sister.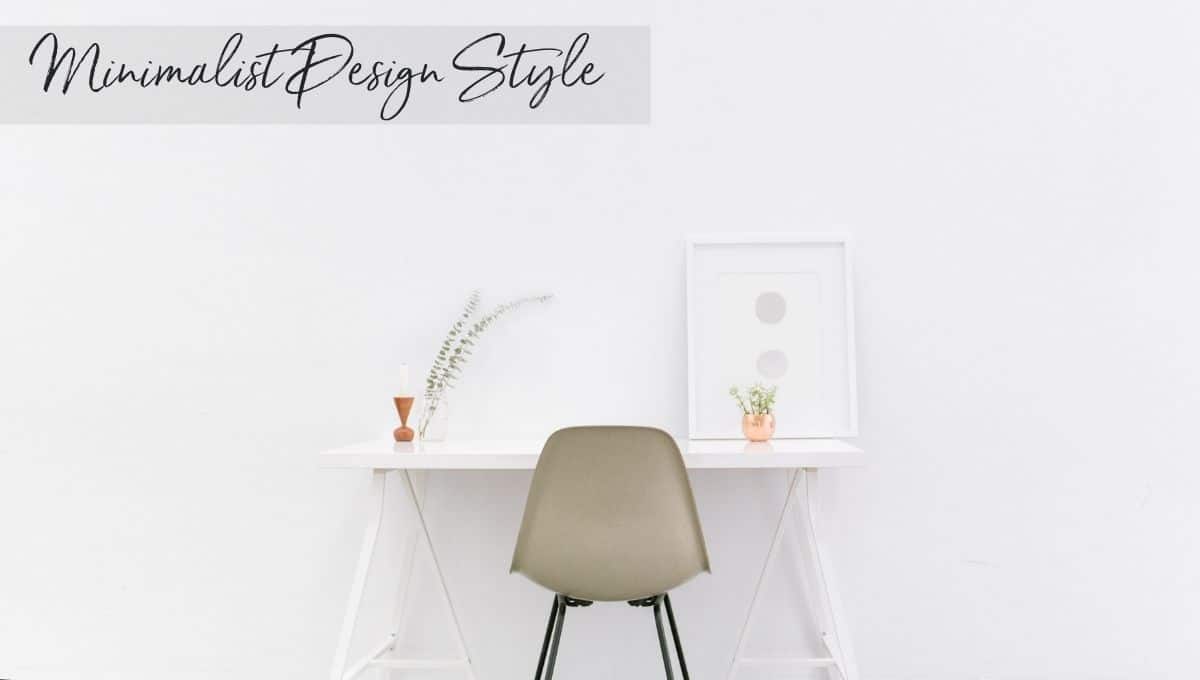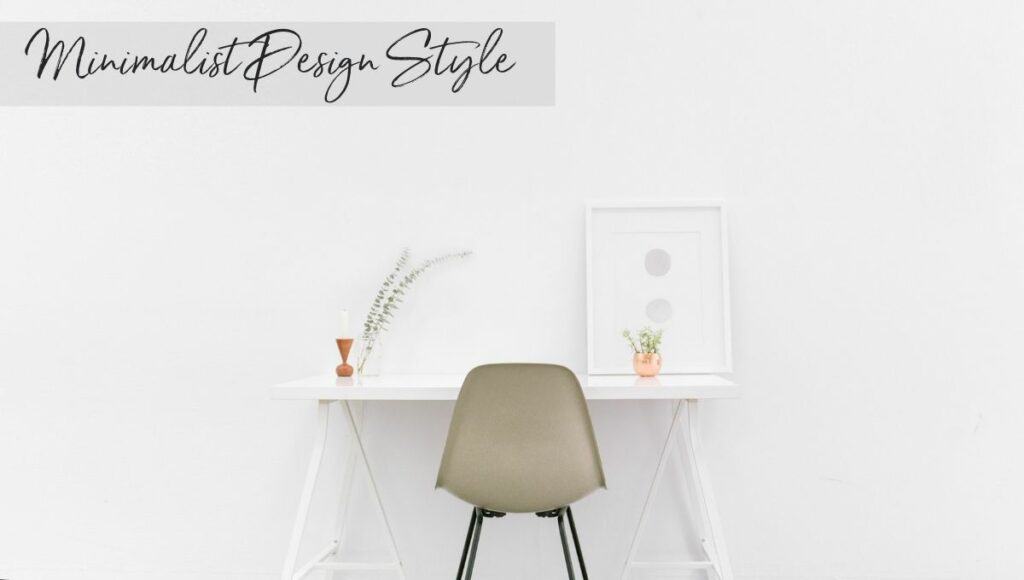 Minimalist
Just like minimalist style itself, this description will be rather short. With minimalism, less is more. The goal of this interior design style is to be simple, clean, and free of clutter. It's all about function and space use. Minimalist style starts with a neutral paint color, usually one functional object as the room's focus, like a bed or a couch, and simple yet functional accents like plants or books. With minimalism, it's all about quality over quantity. So splurge on the chair that will last you years, because the goal is that you won't be replacing it for a while. 
Transitional
Transitional décor is a beautiful blend between classic and contemporary interior design styles, with an emphasis on modern touches. You can think of traditional décor as classic décor with a bold addition. Transitional décor usually starts with a clean, open slate. Lots of neutral colors in regards to walls, and big items like couches and chairs. Lines and accents are usually straight and crisp. Once you have a Contemporary-esque base, it's time to bring the style into Transitional. Next, choose your stand out accent pieces. The goal here is to not overwhelm the space, but rather choose bold pieces like an accent chair or an art piece to truly make the room pop. Transitional is not an eclectic style, but rather a conservative room that has some truly unique pieces.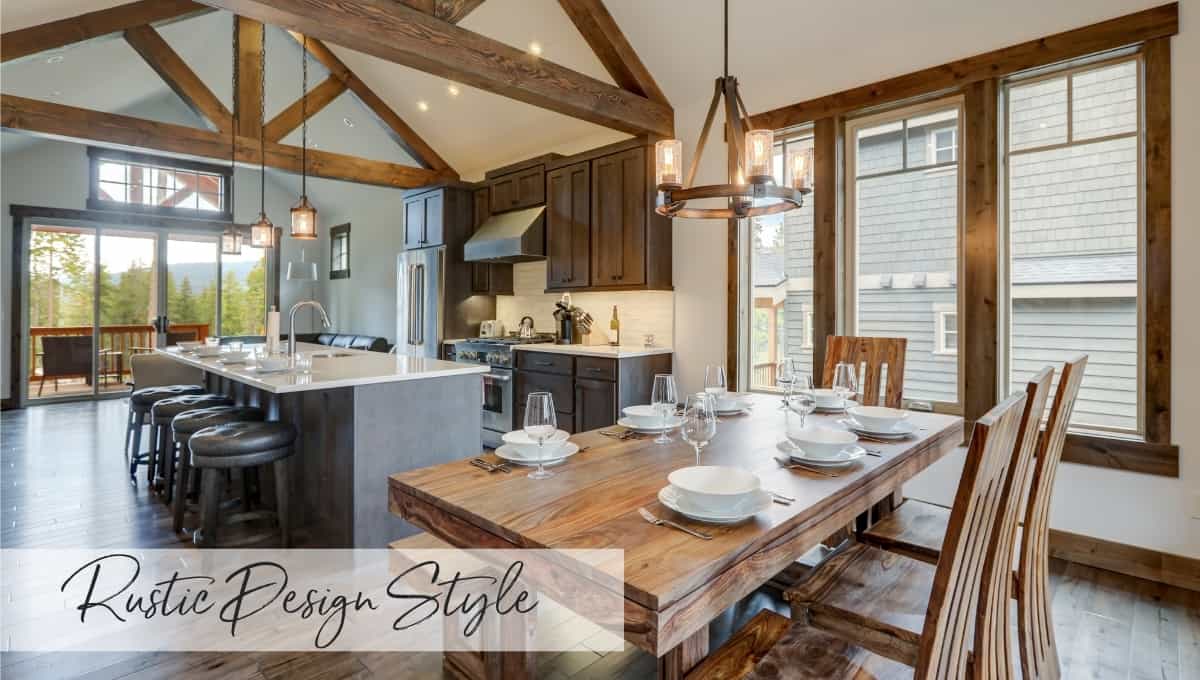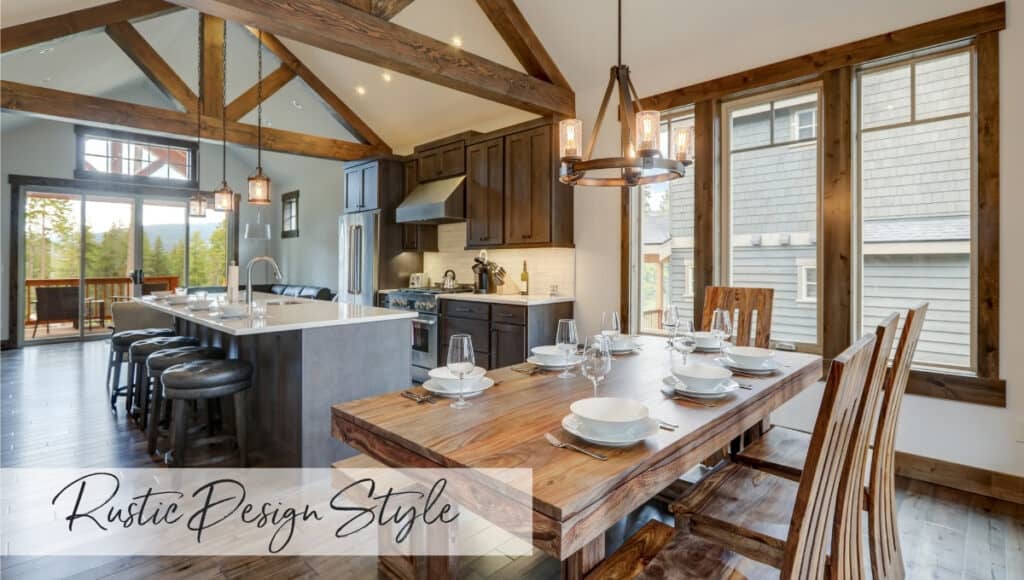 Rustic
Rustic is a broad design style that encompasses quite a few niche interior design styles, but the main goal of rustic design is to emphasize things that are natural and aged in just the right way. The Rustic style of décor uses neutral colors, especially on walls, like whites, cremes, grays, and beiges. Main pieces like tables are usually made from wood, often times distressed, without looking too worn. After a clean paint job and a perfect main piece for a room, fabrics like burlap or canvas are added to bring the room together. You want to have a truly earthy feel so even wood pieces aren't too overdone or glossed, the goal is to have them as close to their natural state as possible.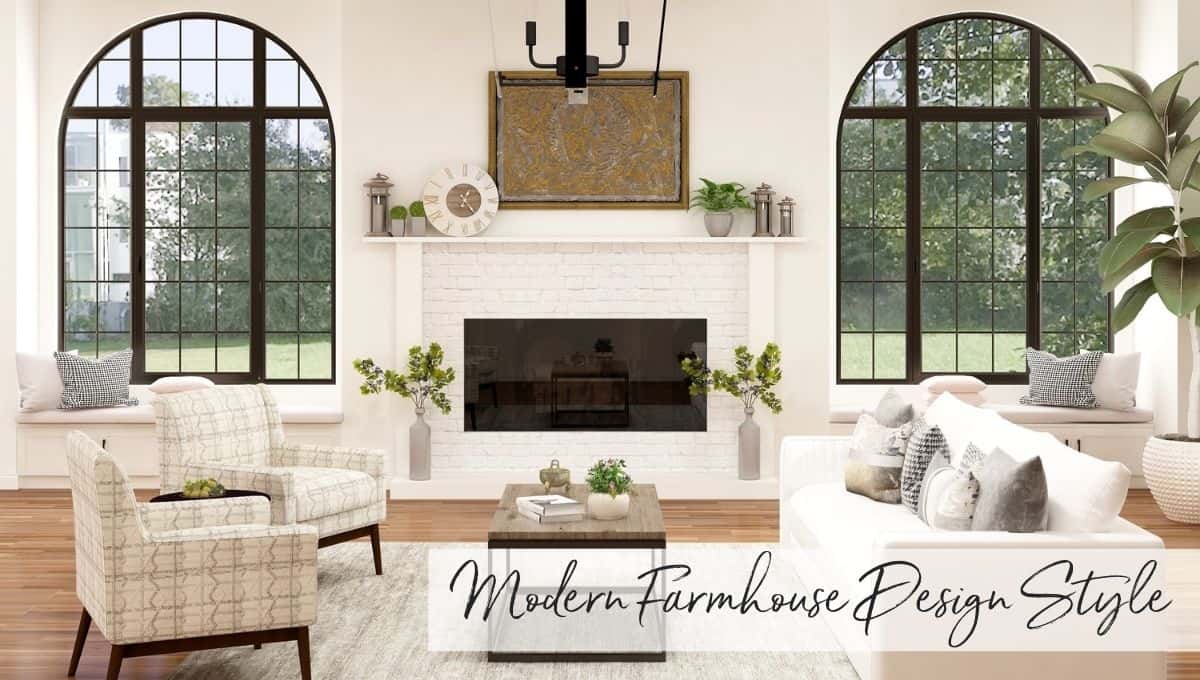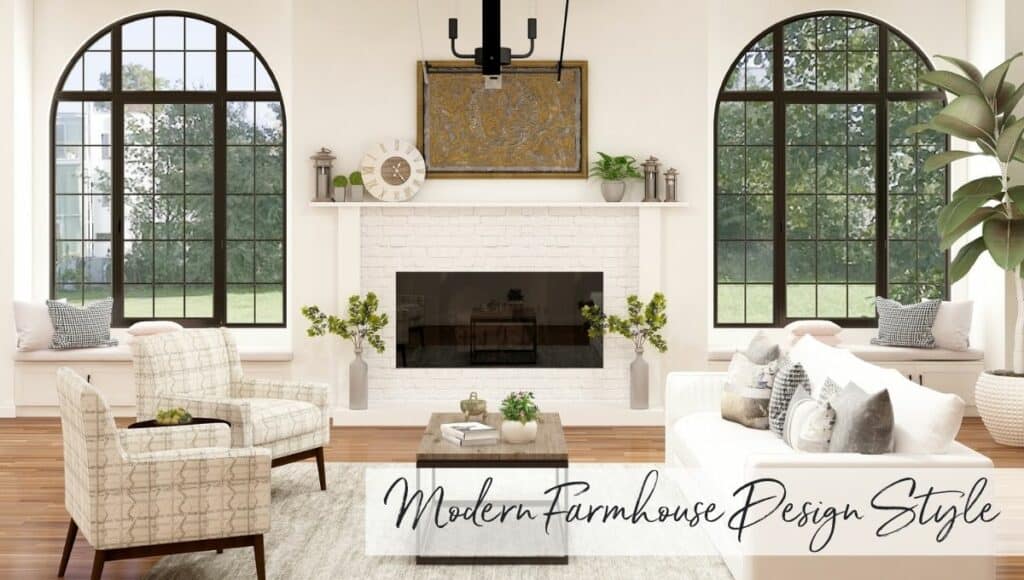 Modern Farmhouse
This style of décor has been completely exploding in popularity lately. It encompasses a lot of the elements of rustic style, but adds some countryside flare while still maintaining a modern base. Modern farmhouse style begins with a lot of white paint; crisp white walls are key. The main pieces, like tables, are usually made of wood and may have some rustic style. However, the key differentiators here are the industrial style accents that bring the farmhouse into the modern era. Metal stools, hardware (including brackets, fixtures, handles), and light fixtures, usually in a brass or black finish, are brought in to give things that truly modern touch. A few farmhouse accents, like an older, rustic milk jug or tray, bring everything together.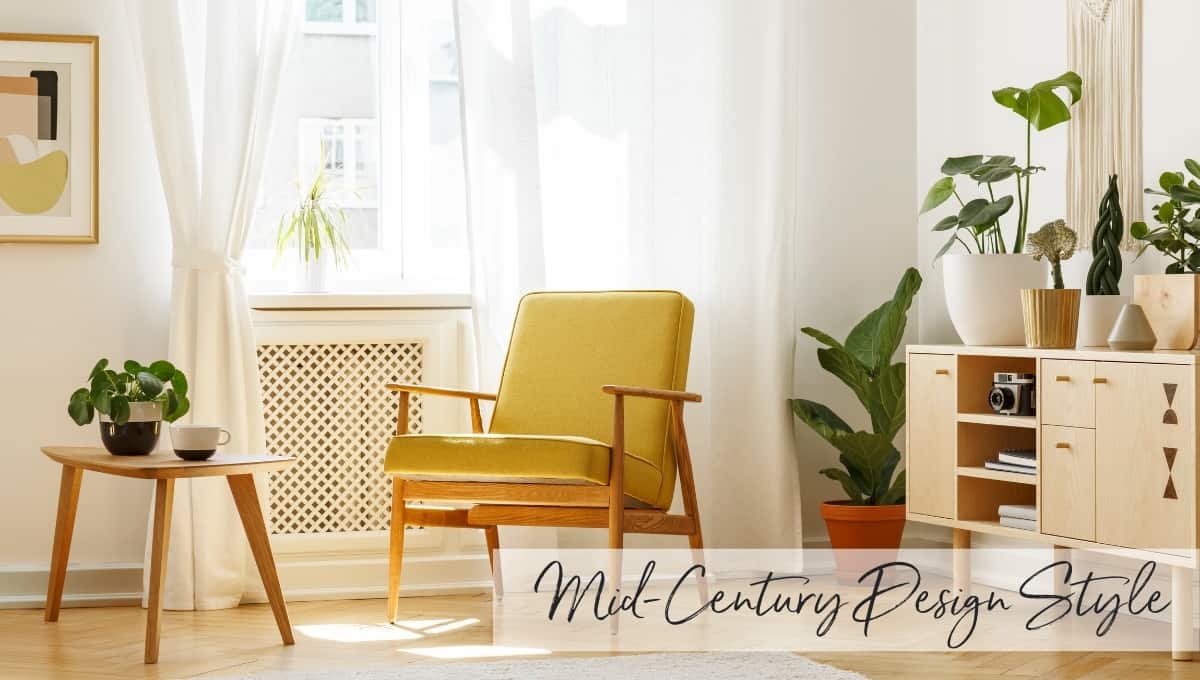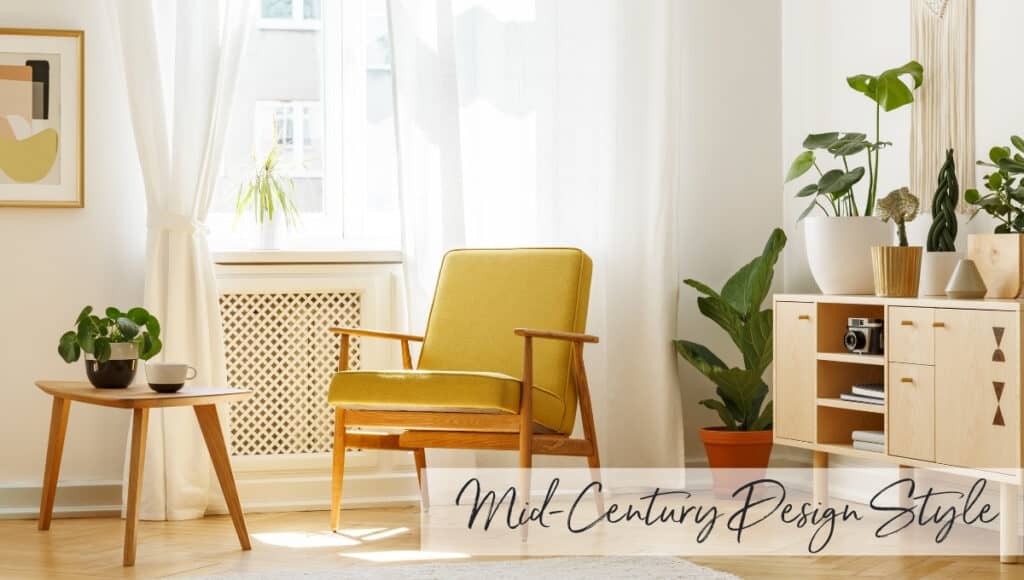 Mid-century Modern
Mid-century modern is a blend of many different interior design styles, but focuses on function and juxtaposition. To achieve a space styled to be Mid-century Modern, you must start with minimalism; you won't find a lot of clutter here. The main pieces should also be functional and aren't there just there to take up space. Plastic was becoming popular at the time, including other materials such as vinyl and plexiglass. Bolder colors and patterns are also popular here too. Once a main piece of a room is chosen, a bright colored accent chair or retro-style lamp can make the perfect addition. Curved lines and asymmetrical designs make a comeback during this time, giving things a mix between a modern and retro feel.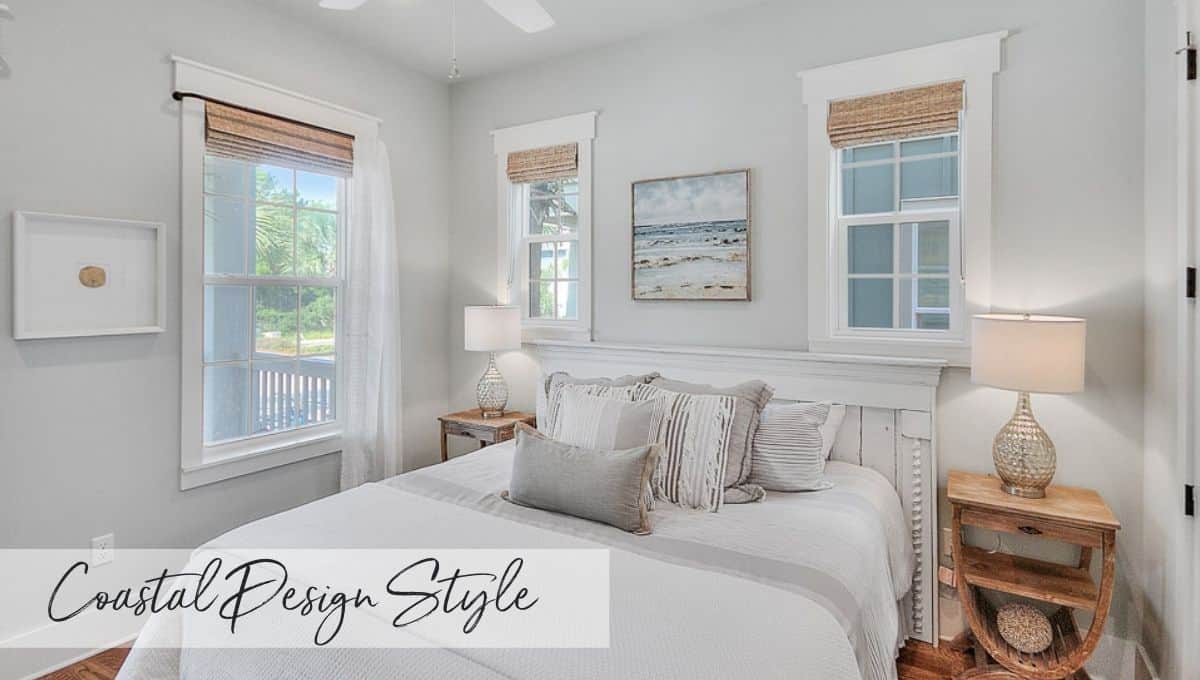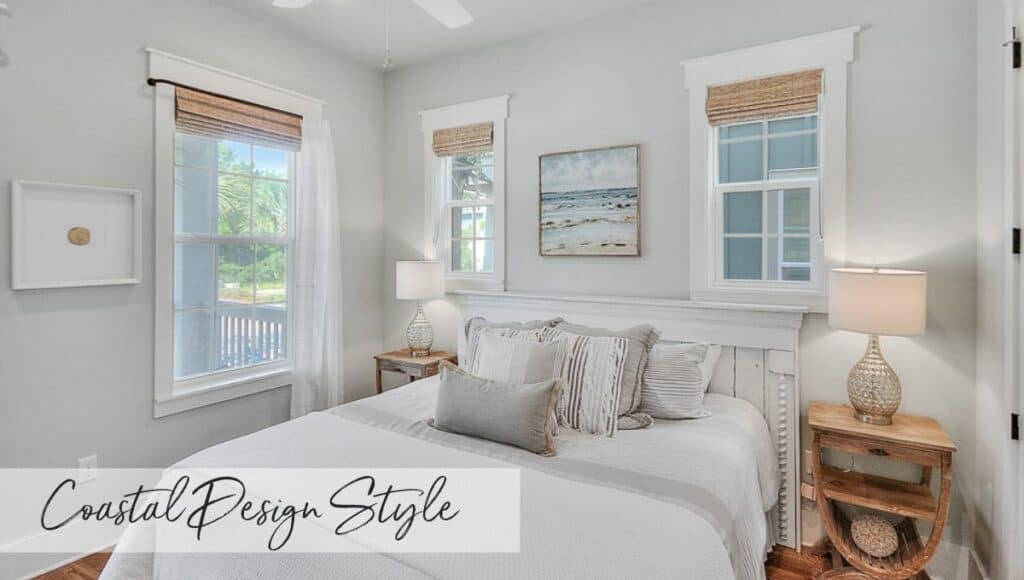 Coastal
Coastal décor embodies everything about the ocean, beach and of course, the coast. This décor starts with base paint colors of whites, cremes and light blues. Often times, accents are wicker, especially accent chairs. Other natural materials and fabrics are incorporated as well. To finish things off, coastal accents include things like sea shells, different shades of blue, and colorful tiles that can be used to accent bathrooms, kitchens, and floors.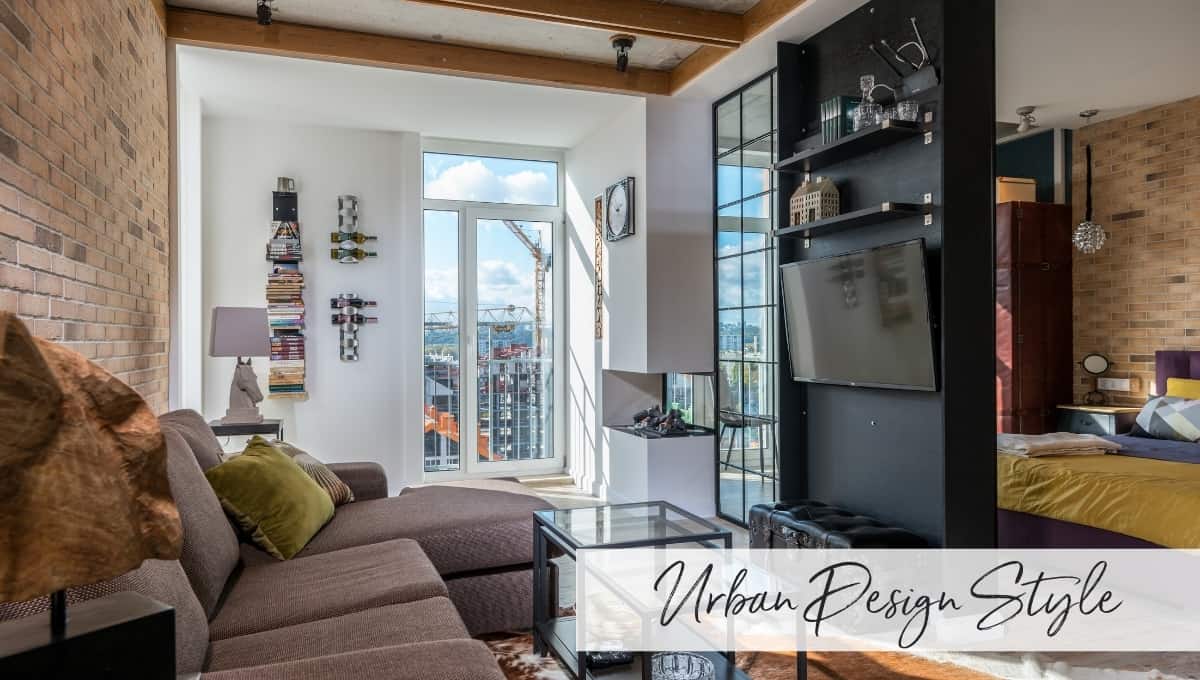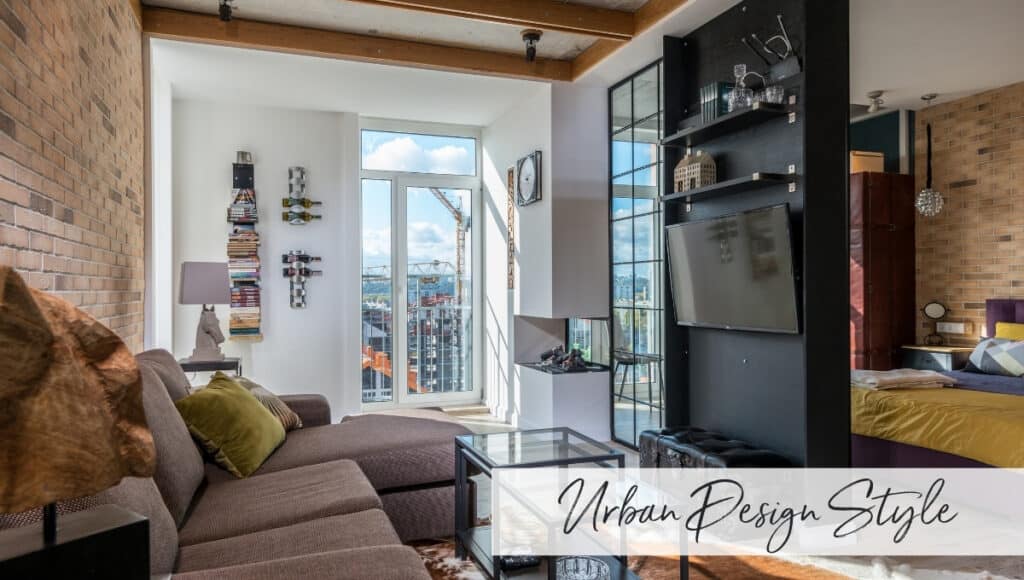 Urban
Urban décor is seen often in cosmopolitan areas and is a great home decor style for city dwellers. This style draws from both contemporary and industrial styles, but usually has a bit of a softer side. The base often starts with warmer colors and softer hues on the wall and main pieces, like sofas or bedding. Because urban décor is often used in city setting, scaling décor upwards to make the most of a space is a big part of this design. Vertical shelving and accent pieces are key here. To finish things off, soft accents like throw pillows and blankets to make things ultra comfortable bring the room together.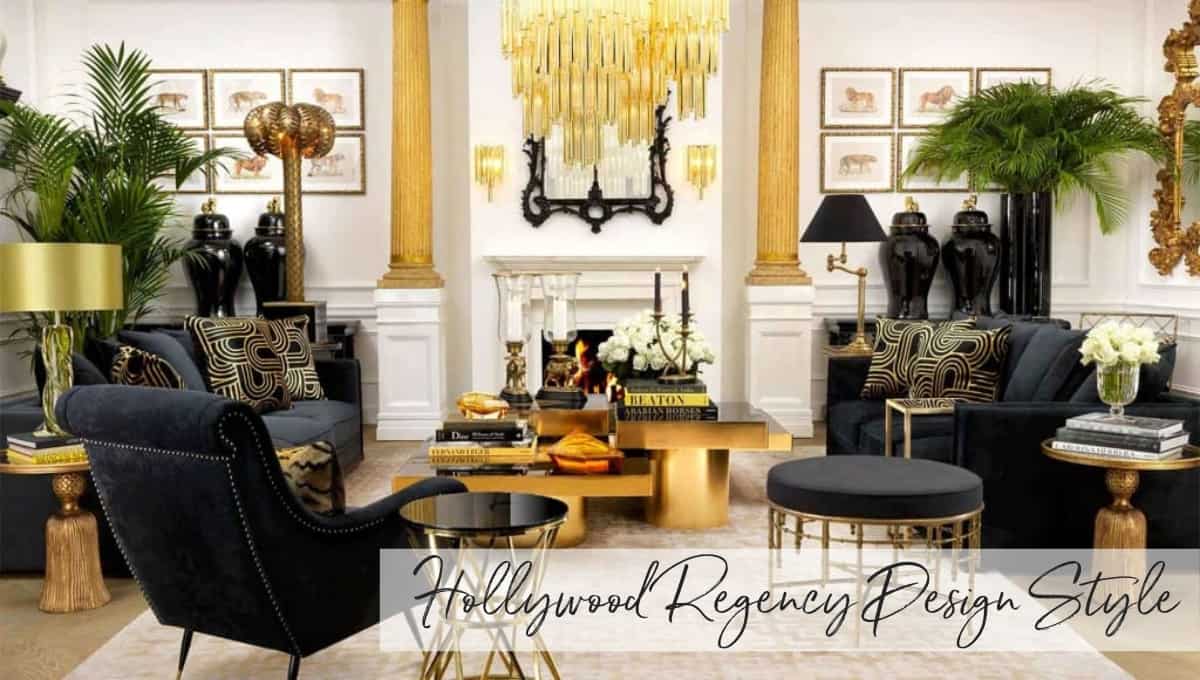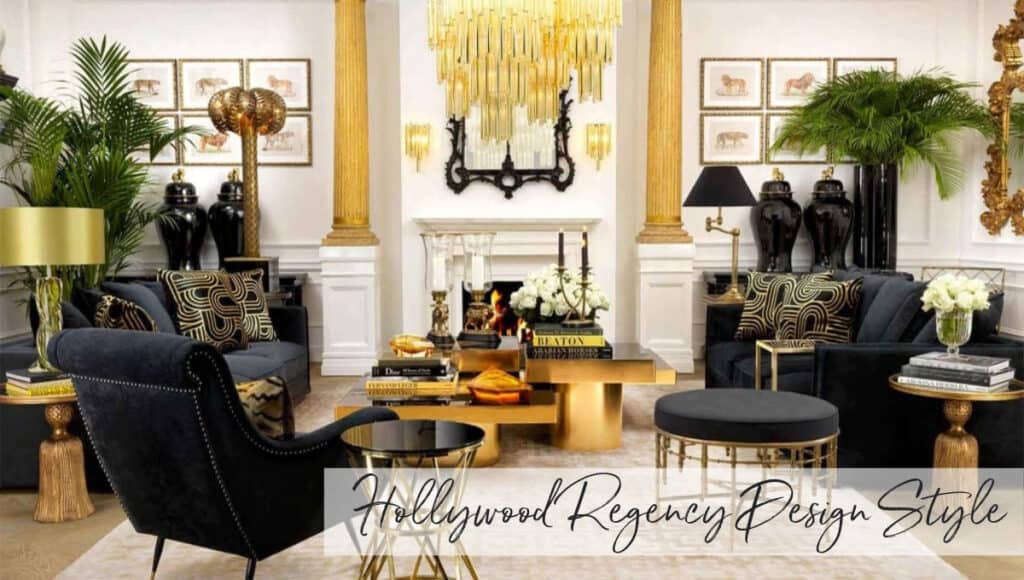 Hollywood Regency 
Hollywood regency décor encompasses the regal and glam lifestyle of Hollywood. The décor style dates back to the golden age of Hollywood in the 1930's. It has elements of art deco and mid-century modern and starts with luxury. Luxurious textures, fabrics, and colors should adorn the space making it feel glamorous in every way. Accents include gold or other metallic, bold colors, and different patterns. Although there is usually a lot going on with Hollywood regency, there still needs to be balance of color and texture so that the rooms aren't too overwhelming; there still needs to be a cohesive feel and some sort of order.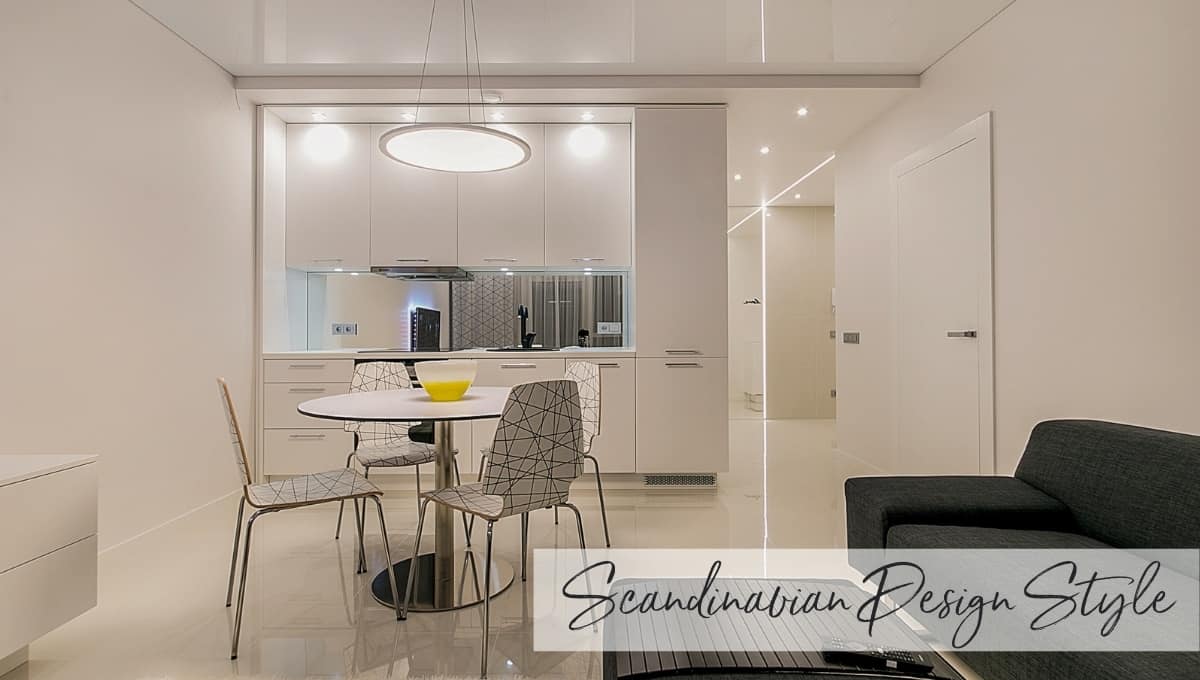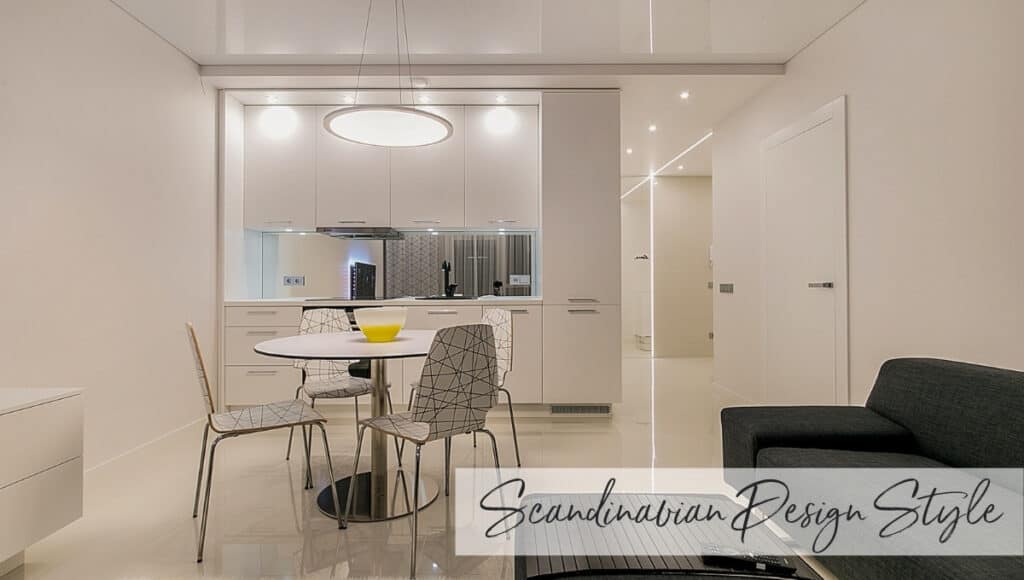 Scandinavian
Scandinavian is another increasingly popular interior design style. It uses many elements of minimalist style and adds a lot of earthy colors and textures, including lots of open light and green touches. The Scandinavian décor often starts with white or and neutral colored walls and utilizes sleek furniture. Bulky and large are not common here. The space then starts to get cozy with subtle prints and textures, with black and white prints being very popular. Using plants to decorate with Scandinavian style is very common, coupled with some natural sunlight and your room is on its way. 
French Country
French country décor tries to embody the chic, quaint aesthetic of the French countryside. The décor style usually starts with warm colors that are fairly soft. Main furniture pieces are often painted and distressed to have a rustic look, while still maintaining color. Unlike farmhouse, French country decor isn't all about natural wood. Colors should be light and airy and fabrics are the same, usually sheers and laces are seen in this scheme. Accents often include things that are functional for a countryside including pitchers filled with flowers, or bowls and cups used as accents. 
Bohemian
Bohemian décor embodies the free spirit. Unlike some of the more tame interior design styles, bohemian isn't for those afraid of a color. This décor is similar to Scandinavian in many ways, however, this style incorporates much more color. The Bohemian style starts with warm, earthy colors, but often includes bright colors and metallic in accent fabrics. Tapestries and colorful rugs also come into play. When it comes to accents, the goal is to layer colors, textures and patterns. A room with Bohemian décor often gives off a certain, international vibe. When it comes to main furniture pieces, most bohemian rooms are filled with older pieces that seem to be worn, maybe even from a second hand store. Eclectic pieces are welcome here, as long as they blend well together. Finally, large throw blankets of different colors and patterns make the space feel like a welcoming abode to those who visit.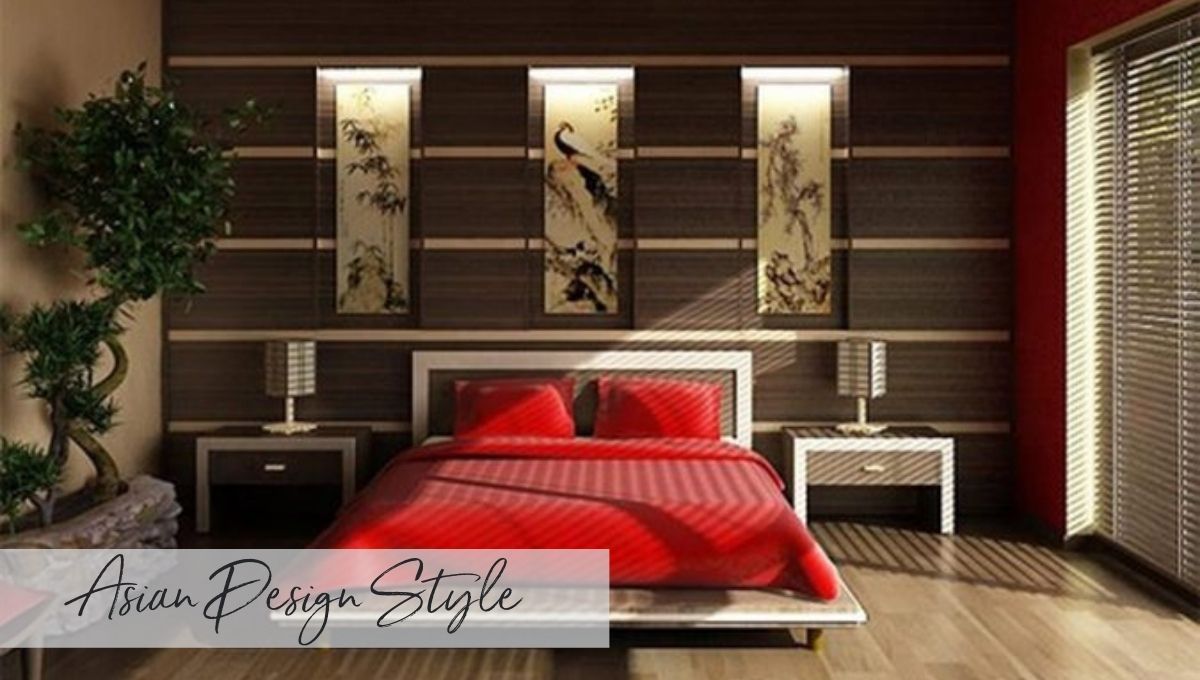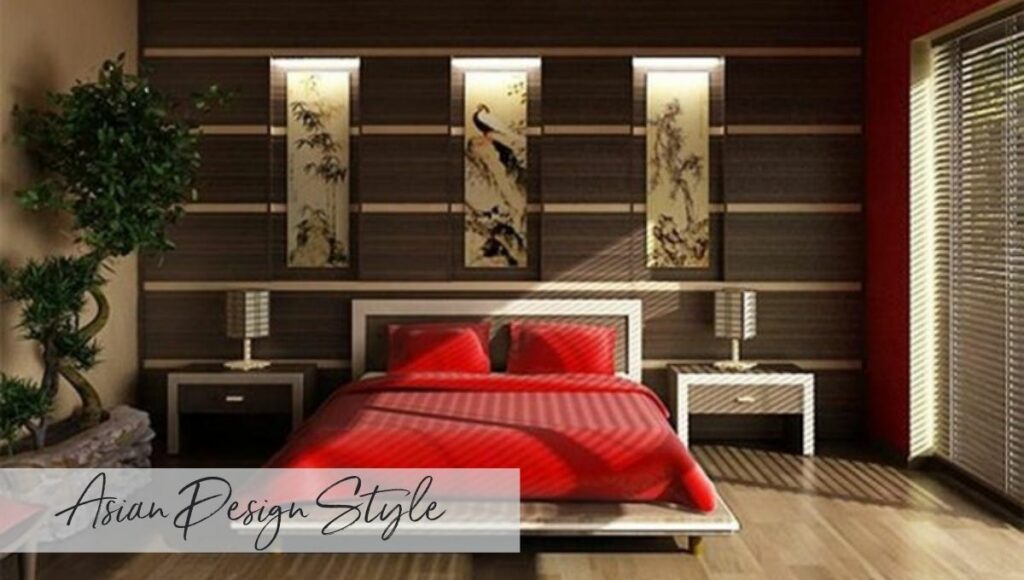 Asian
Asian interior design style combines a wide variety of styles and cultures from all across Asia. It usually involves styles taken from China and Japan, but also encompasses pieces from different Asian countries as well. This décor style is all about balance, especially as feng shui is especially popular in these cultures. Main décor items are usually very simple and functional, featuring slim furniture with symmetrical lines. Main items can be black and white, however, there are often bold color additions including deep red, blue and gold – especially as accents. To finish this style off, traditional Asian prints, featuring embellished fabrics, are adsorbed in the room in the form of art, pillows, or room dividers.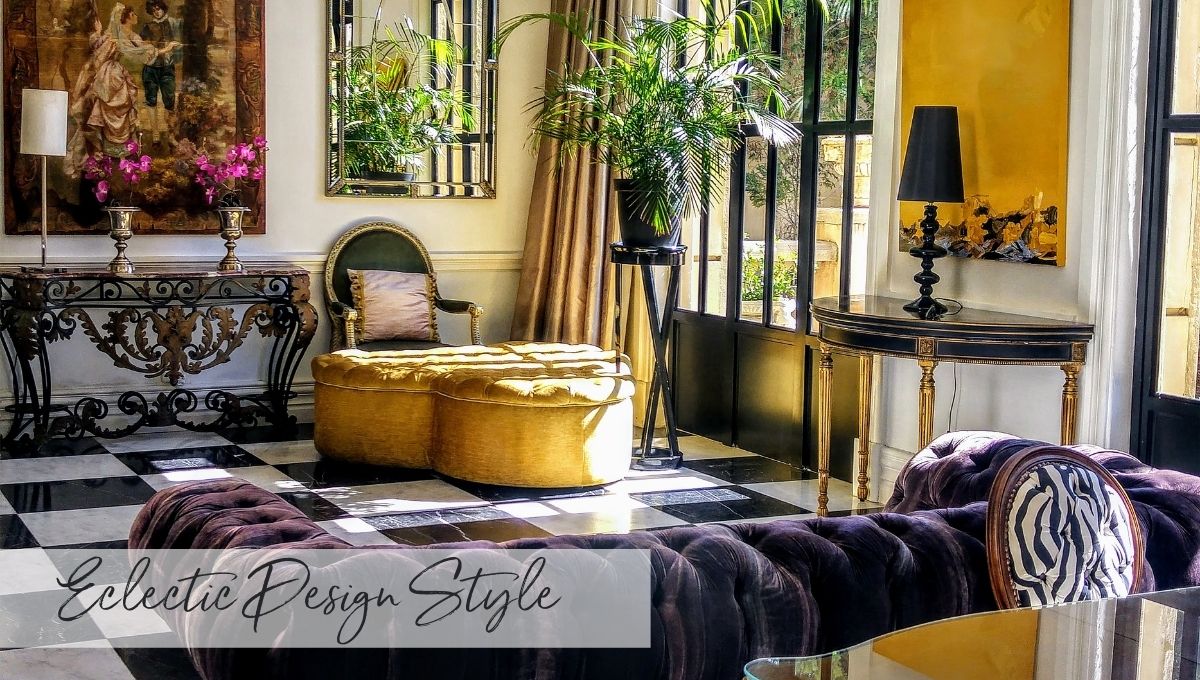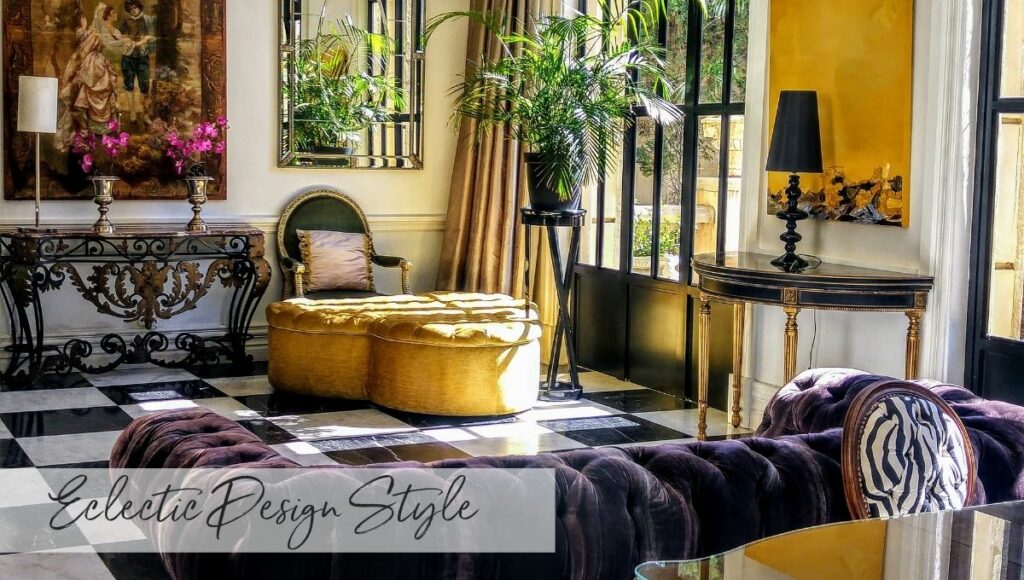 Eclectic
Contrary to popular belief, eclectic style is not about collecting a bunch of random things and tossing them into a room together. Although it might be a bit much for some people, there is truly a method to this madness, and it is a method that leads to something beautiful. Eclectic style is all about bringing together pieces from different styles, that still find a way to blend and bring harmony to a room. When it comes to eclectic style, the goal is to start with your chosen common theme, often times a color palette. This will be the main theme that strings this style together. From there, neutral accent pieces can start in a room, and be accented with pieces from different styles and eras, that still fit the main theme. The end result is a gorgeous room that is truly unique.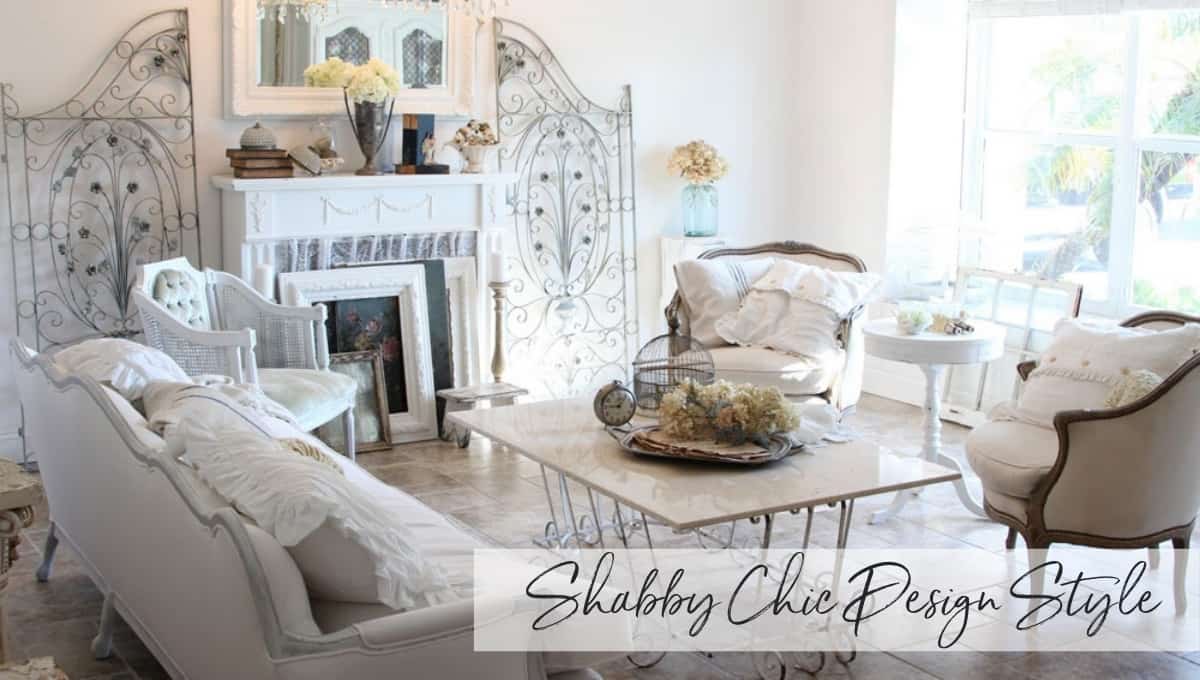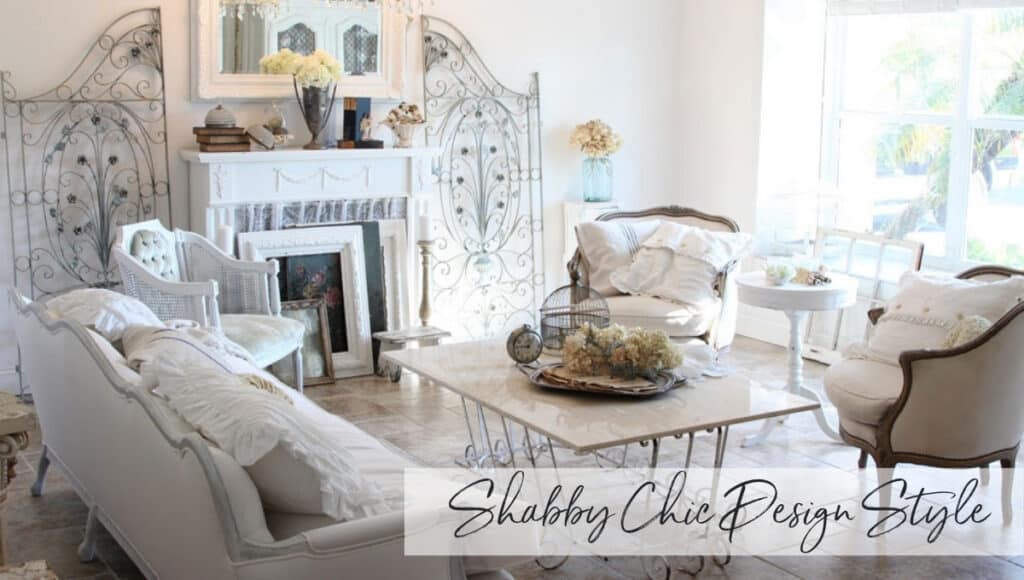 Shabby Chic
Shabby chic décor lives exactly how it sounds. It's the perfect balance of things being pulled together and relaxed at the same time. This home décor style lives a bit like Bohemian, but with some modern or glam elements that make things feel a bit more structured. With this design, neutral colors start as a base with main furniture pieces being neutral colors as well. The shabby part often refers to pieces that are distressed, similar to rustic, but more vintage. To pull this design together, the chic often comes in the form of accessories. Bright colored pillows, gold accent pieces, natural bright light and comfortable throw blankets and pillows bring this style together. 
Art Deco
Art deco encompasses all of the glitz and glam of the roaring twenties. This Gatsby-esque decor style emanates luxury and taste. Although the base usually starts with earth tone walls, whites, beiges, and even black occasionally, accents are key in this style. Main pieces are usually sleek and geometric and are often in black, metallics, or even clear plastics. Accent pieces are often gold, usually frames for art from that era. Sunburst mirror, and mirrors in general are very popular in this style. Chandeliers can bring this room together, in addition to other geometric accent pieces.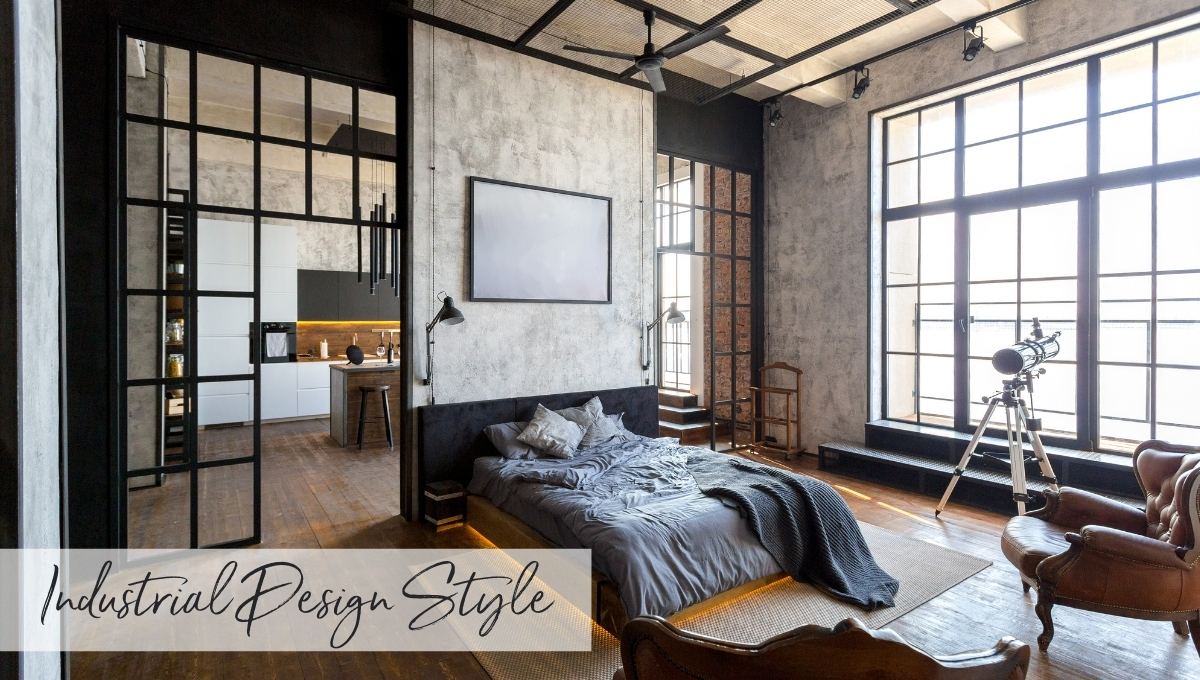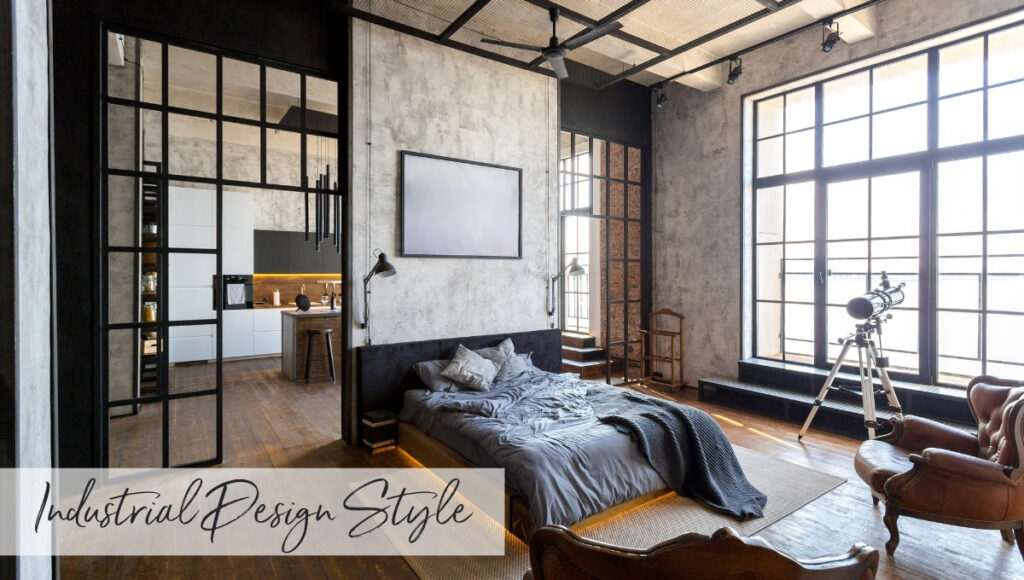 Industrial
One of the more modern and non-traditional types of interior design is Industrial design style. To many people, Industrial design style may seem intimidating, with it's raw aesthetics and edginess. But that couldn't be further from the truth. This design style is nothing but the celebration of the various materials that make up a home. All utilitarian materials – the pipes, the concrete, the beams and the walls – serve as a piece of art, a design element in this décor. It is typical for spaces designed in the industrial style to "expose" themselves by reveling in their unfinished walls and concrete floors; the reclaimed wood and the exposed brick on the walls. If done right, every aspect of the living space can look like art. If not, it could easily slip into messy territory. 
In Industrial design style, there is excessive use of metals like stainless steel, iron, copper and aluminum, in the form of borders, pipes and window frames. Other materials used include glass, brick and concrete. While you would see a lot of Industrial style homes have brick walls, it is not a must. Concrete walls, or neutral tone walls can do the job just as well. Speaking of neutral tones, that is an absolute must in Industrial design style. The color palette is typically restricted to grays, browns, blacks and white. If you can't do without color, then maybe a hint of burnt shades of red, orange or deep green. But never too many, or too much of any. Bare windows are also a quintessential aspect of the Industrial design style. Accentuated with nothing but a metal frame, these windows are designed to give the space an open feel, while also making them the focal point of the room.
The Industrial interior design style is not very difficult to master. Many people believe if they have a traditional empty space to work with, decorating it in this style would be a challenge. But if you follow some of these simple guidelines, any living space can become one that celebrates the materiality of your home.
Glam
Luxury. Sparkle. Glitter. And of course, Glamour. This interior design style screams opulence, dipped in elegance. Glam design style may seem indulgent, but there is a method to the madness. The colour palette of Glam design style is not restrictive, but begs a harmonious combination of white, pastels, metals and black. You can opt for white walls with dark accents or dark walls with sparkling accents. You can go elegant with pastel furniture, or dramatic with jewels. Choose your filter, but make it fancy.
In order to look like the stuff of dreams, be sure to experiment in varying materials and textures. Mirrors, metals, faux furs, velvet, satin; all add a flair of extravagance that we only see in the movies. Sequined cushions, statement art pieces in metal frames, and velveteen upholstery all help make the deal sweeter. 
As you can see, the Glam design style is not for the faint hearted. Nothing about this style is muted or toned down… except maybe its art of subtlety.
Industrial Glam
Industrial glam is all in the name, a combination of the best parts of industrial decor and modern glam. This style starts with an industrial base, neutral wall tones, accents of natural exposed parts of the homes like beams and wood, and metal fixtures. However, this style gets a twist when elements of glam are added. Accents include gold decor pieces, particularly lighting and fixtures, and comfortable lush fabrics for throw pillows and blankets. Softer elements, including lamps and flowers, can be added to truly bring the room together.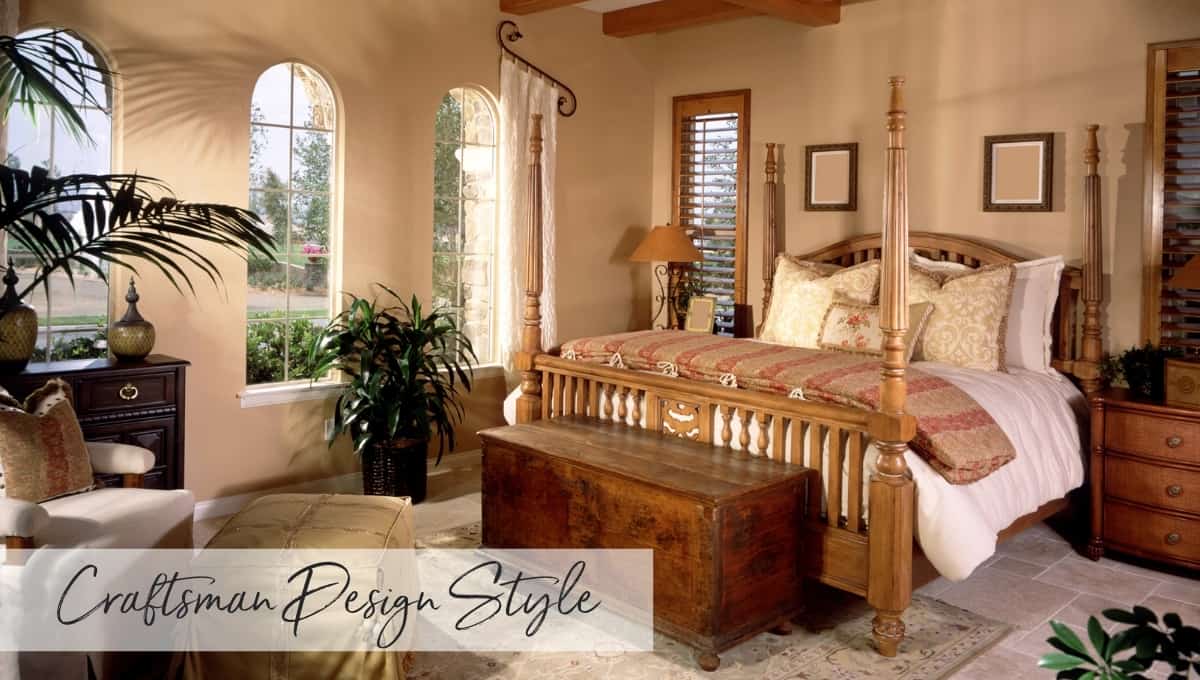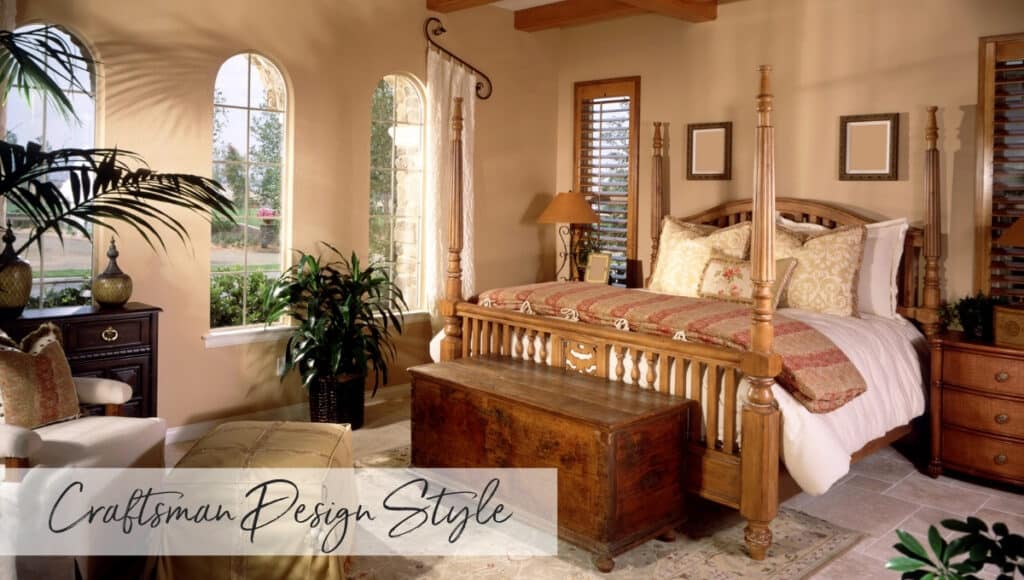 Arts & Crafts/Craftsman
The Arts & Crafts or Craftsman style celebrates what really goes into making a home, the idea of the building materials, and how they can be played to pull the space together. Craftsman style very much focuses on wood, but not in the same way that rustic décor does. In this style, wood isn't naturally or purposefully distressed, but is rather clean, polished, and varnished, down to the details. Pendant lighting often adorns these homes and the walls are finished with warm, earthy colors. When it comes to craftsman style, things are simple and clean, however, details like trims on doors and floorboards are perfectly pulled together.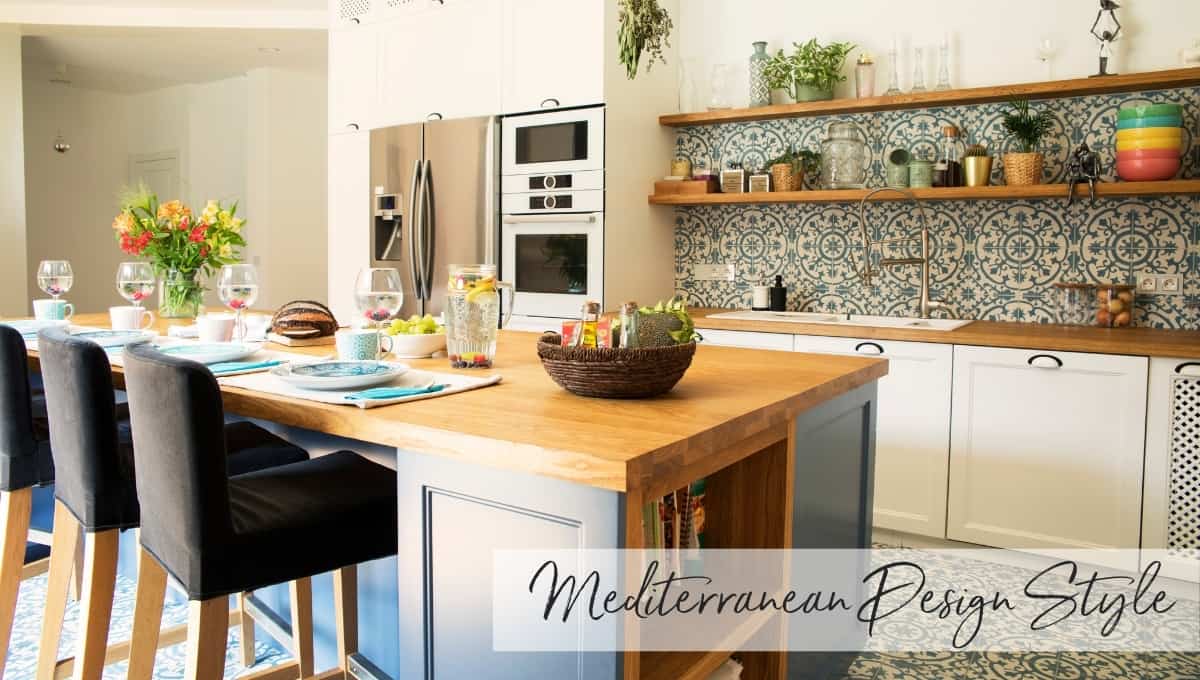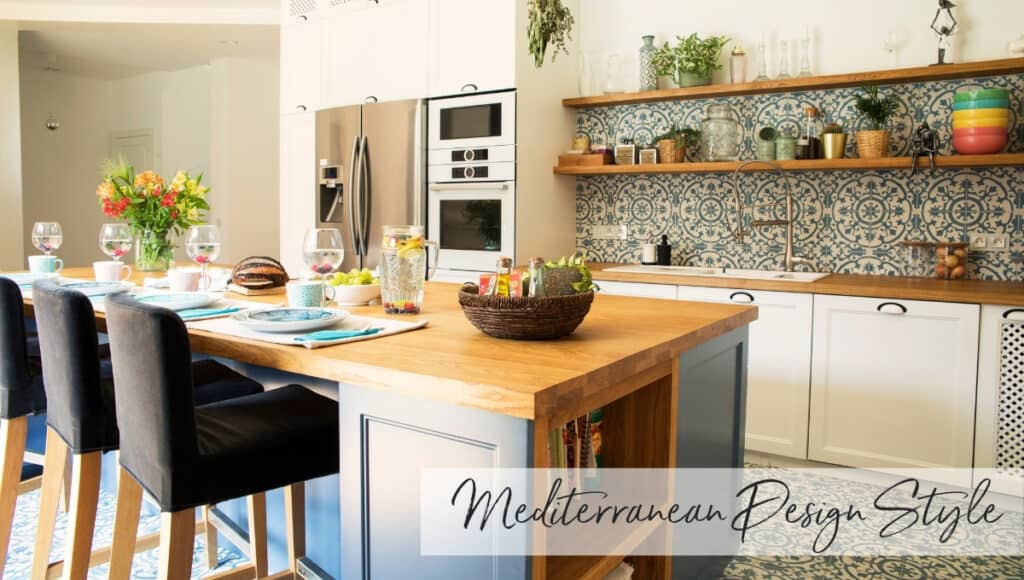 Mediterranean 
Similar to Coastal décor, Mediterranean décor focuses on the colors of the coast, but this time, focused on the Mediterranean Sea. This décor style starts with the colors of the water in different shades of blue, and can also include complimentary colors like lavender and yellow. Tile is key here, as different patterns and colors can be used to accent almost any room in the house. Main furniture pieces are often neutral and not too overbearing, but are accented with plush fabrics. Hardware, including light fixtures, are usually bronze. To finish things off? Add depth. This is often seen in the walls where paint is added in thick layers to make things pop.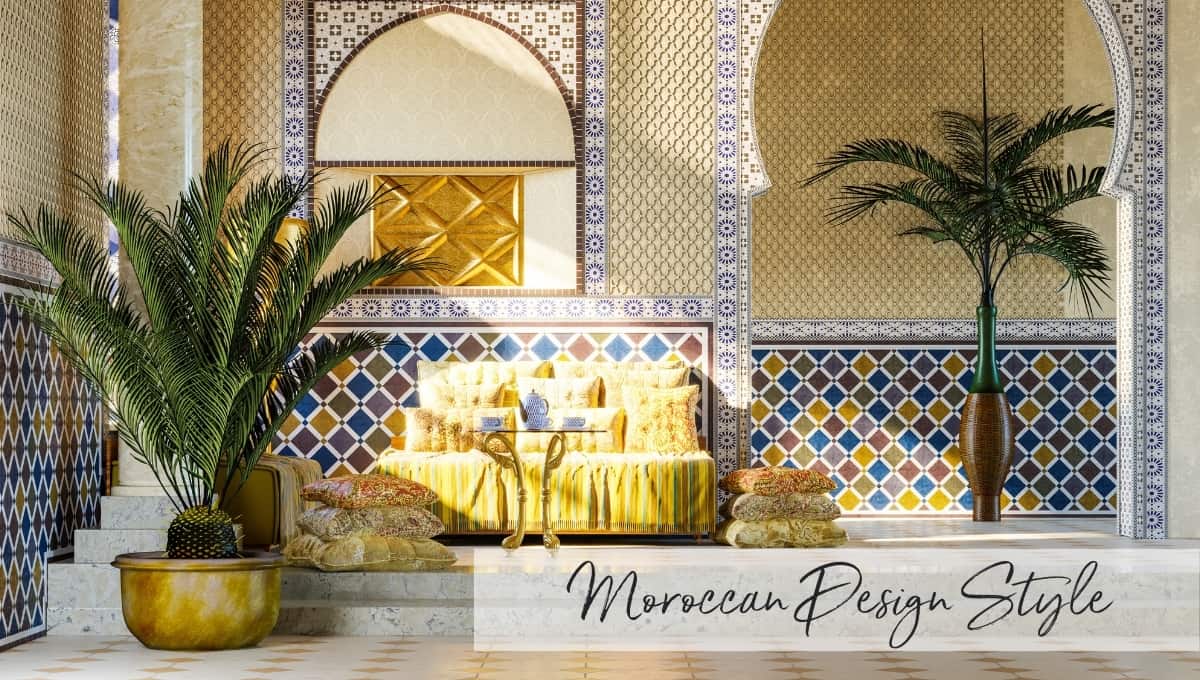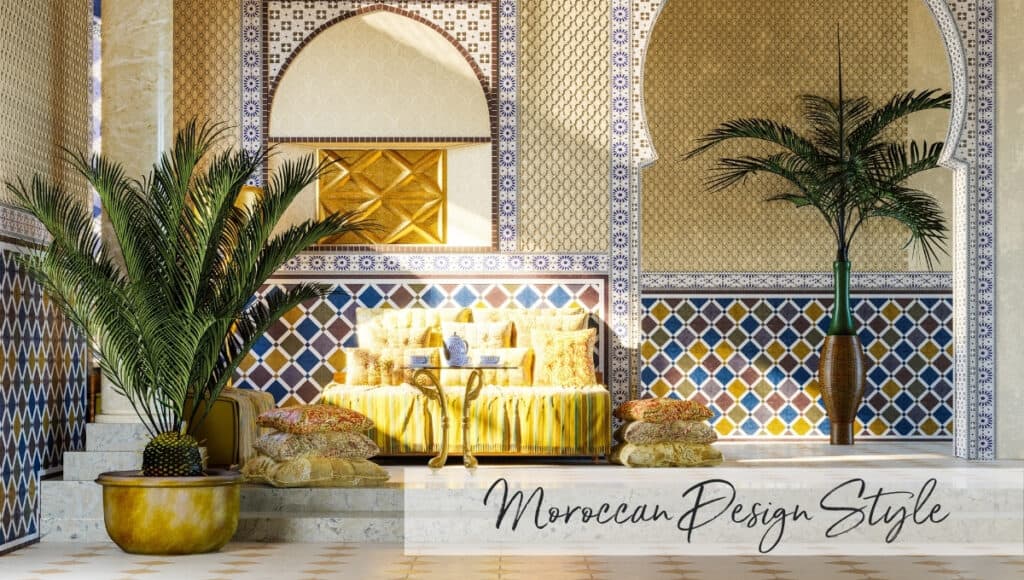 Moroccan
Moroccan décor is very similar to bohemian, however, really embodies cultures and styles from all over the globe. This decor style is all about color, textures, and patterns blended together to create a room that in and of itself, is its own tapestry. The base for this decor style, and main furniture pieces as well, are often neutral and earthy. Wood tables are not usually distressed or painted, and white walls are common. When it comes to making a room Moroccan, it's all in the details. Simple tile patterns in the bathroom or kitchen can add a pop of color, and patterns on fabrics for throw blankets and pillows bring these rooms together. Don't be afraid to be bold in the details here. Bright pops, color, ornate tapestries as well décor, can really make this style shine. 
Spanish
Spanish style décor brings in all of the best elements of Spain, popularly found in homes in warmer regions like Arizona or California. This interior décor style incorporates many of the parts of the traditional Spanish architecture, including natural elements like clay and tiles. To begin creating this look, you often start with fresh, neutral wall paint. Main elements, such as furniture or cabinets, often have a very earthy feel to them, so natural wood tables, or clay accents are key. Fixtures, including light fixtures, are often in black or brass to add a pop to the earthy elements of Spanish décor. For accents, clay colored reds in décor, rugs, or pillows can bring this look together perfectly. Plants, such as succulents, often make a great accent as well. 
Southwestern
Similar to Spanish décor, Southwestern décor is meant to bring out the beauty of the desert. This interior design style also focuses on warmth, and natural desert colors and textures such as clays and earth tones, but brings a bit of its style for more traditional cultures like Mayan and Aztec. In addition to the staples of Spanish décor, the addition of bright colors and patterns in accent pieces, such as rugs or paintings, brings a bold look to the home. In this look, accents can also be functional, such as exposing pots, pitchers or baskets.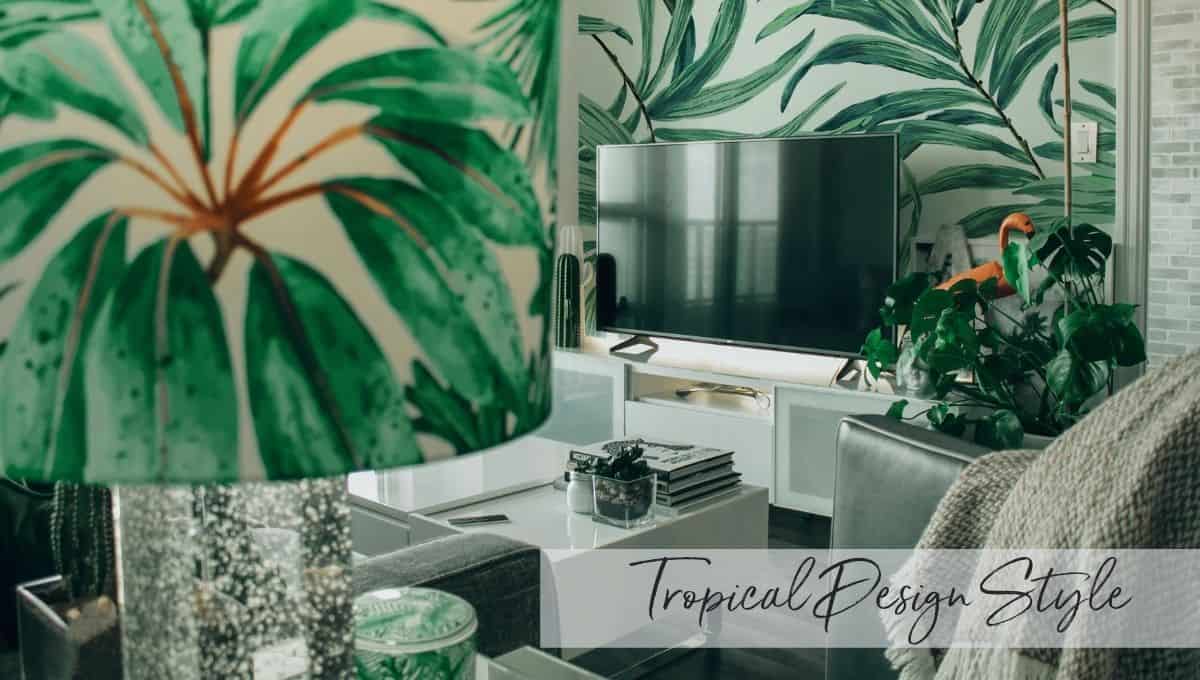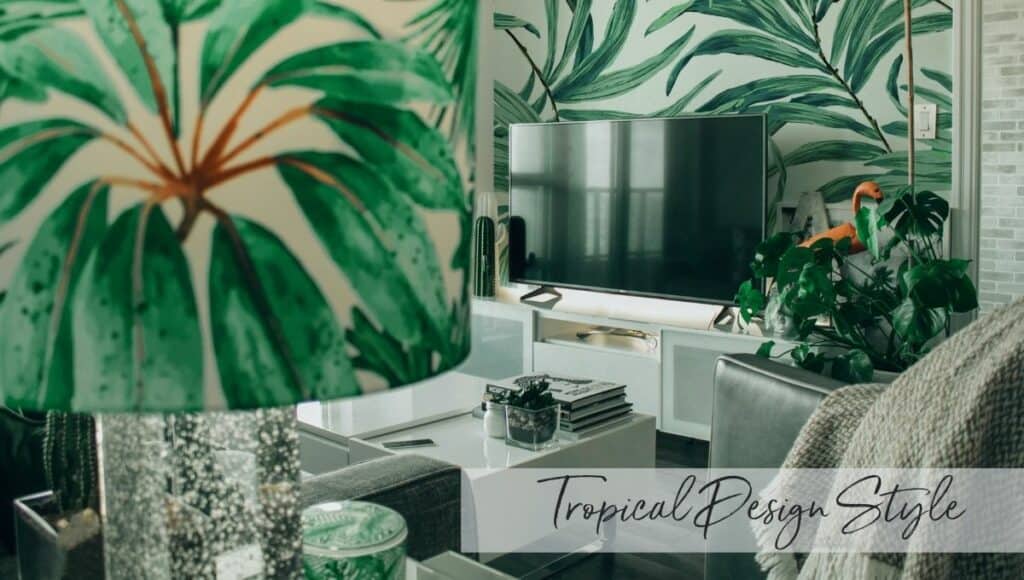 Tropical
Tropical décor focuses on bringing together elements of the warmth of tropical climates. The décor style starts with earthy, neutral tones on the walls and furniture. Light wood or wicker are popular in this design style on main pieces such as tables, chairs, or shelving. To bring in the true feelings of the tropics, different shades of green are brought in on walls and accent fabrics. In addition, prints, on things like wallpaper are key here, especially of tropical plants or scenes. For accent colors, deep reds and pinks can come into play in small items such as picture frame or accent pieces, bringing out the colors of the flowers found in the tropics. To really bring things together, living plants can bring this style to life.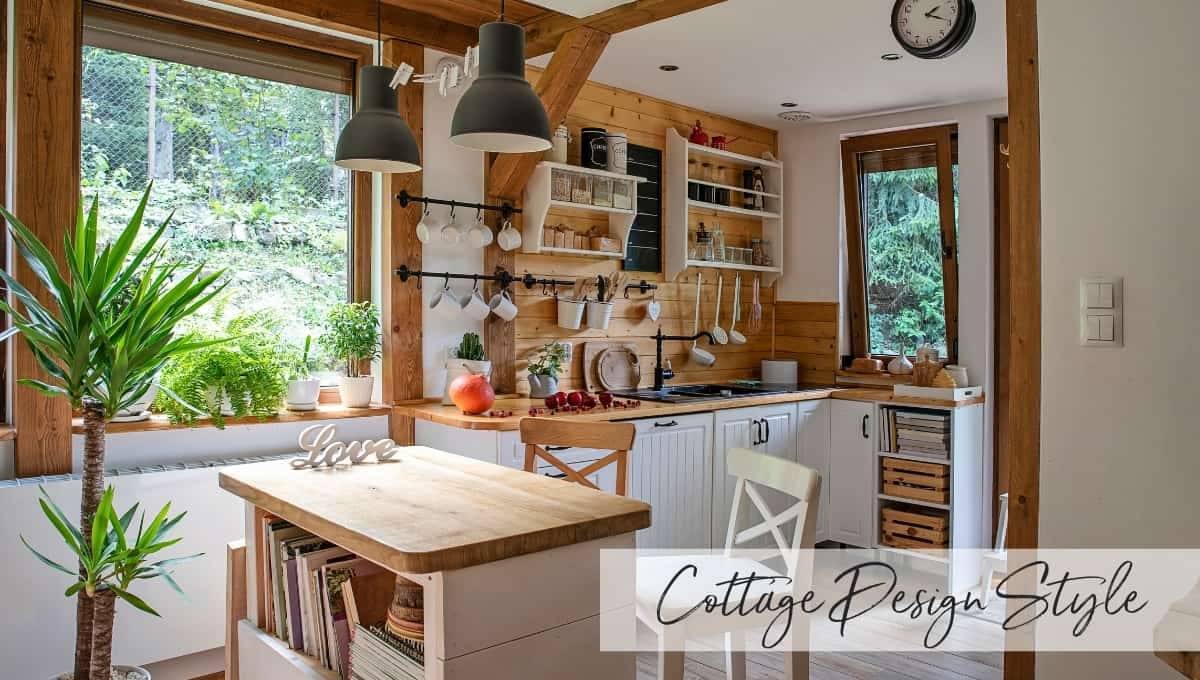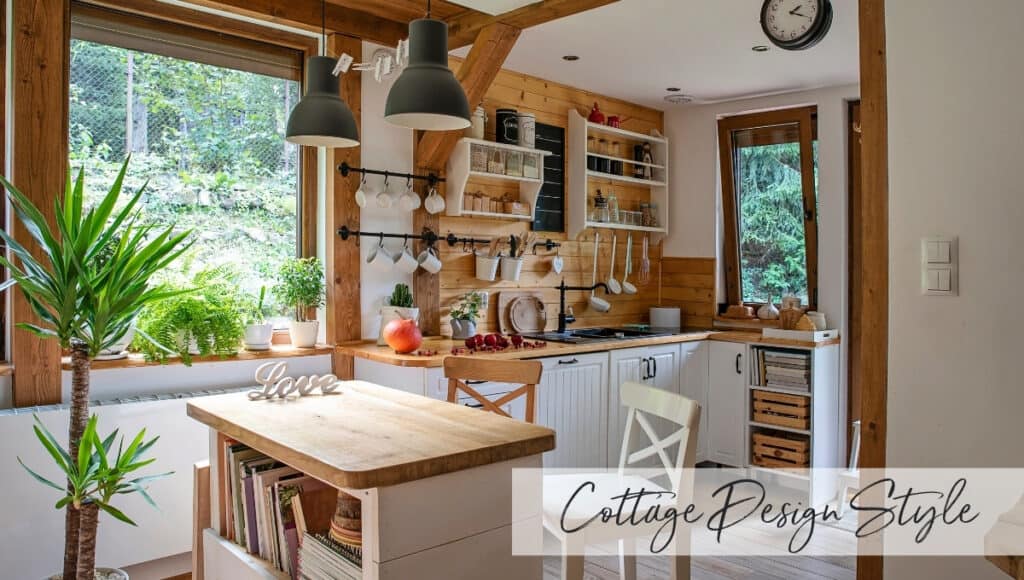 Cottage
Cottage décor style is meant to mimic the comfy, quaint feeling of a weekend in the woods. Similar to modern farmhouse or rustic, this décor starts with crisp, white or other neutral colored walls. Main pieces are often made of wood that can be natural or slightly distressed. When it comes to accents, cottage style takes a turn from its similar style trends and adds pops of light, often pastel colors, and textures into the fabric. Sometimes lace and floral patterns can be added as well. This style is all about natural light coming into the room so sheer curtains are often popular as well. To bring this look together, matching furniture sets, especially bedroom sets with trunks, are popular. The goal is to keep this look cohesive, while adding a bit of an eclectic touch. 
Old World
Old world is a décor style that blends a wide range of European styles and time periods. To some extent, this décor feels regal. Color schemes here are rich and warm, this includes woods as well. Color often include dark blues, burgundy, or deeper shades of green. Furniture for this style tends to be larger and grand, often detailed. Fabrics are often luxurious, even down to the curtain, including rich colors in velvet or silk. Accents often include freestanding furniture such as Cairo cabinets and ornate paintings.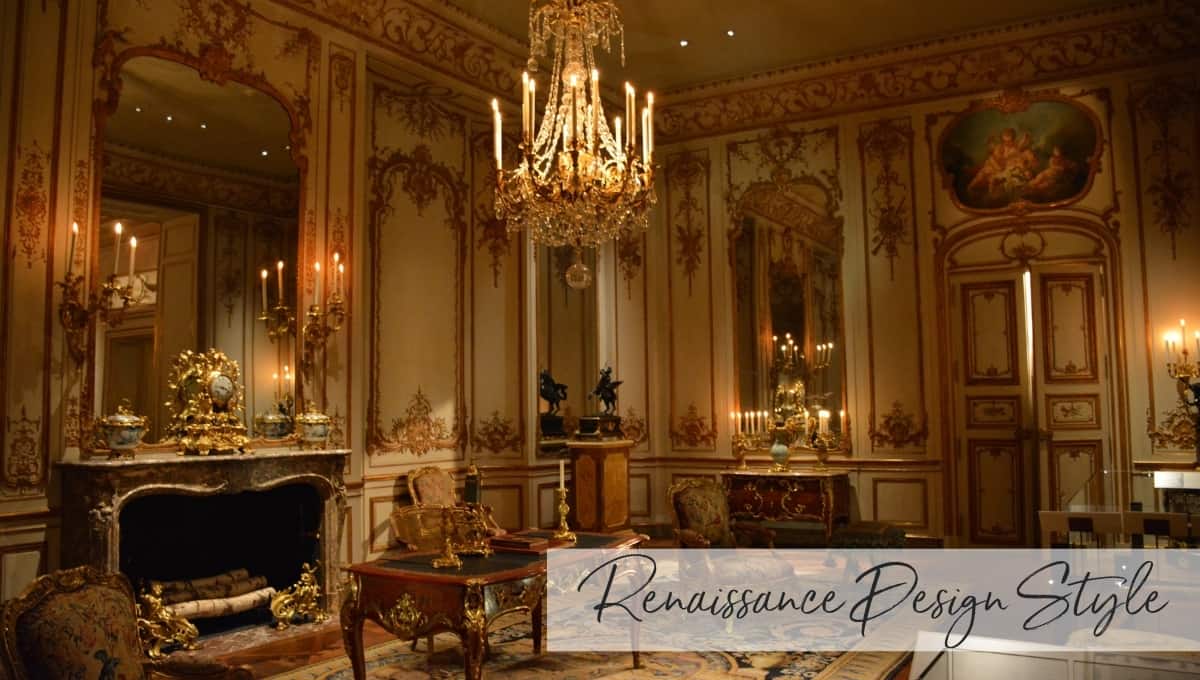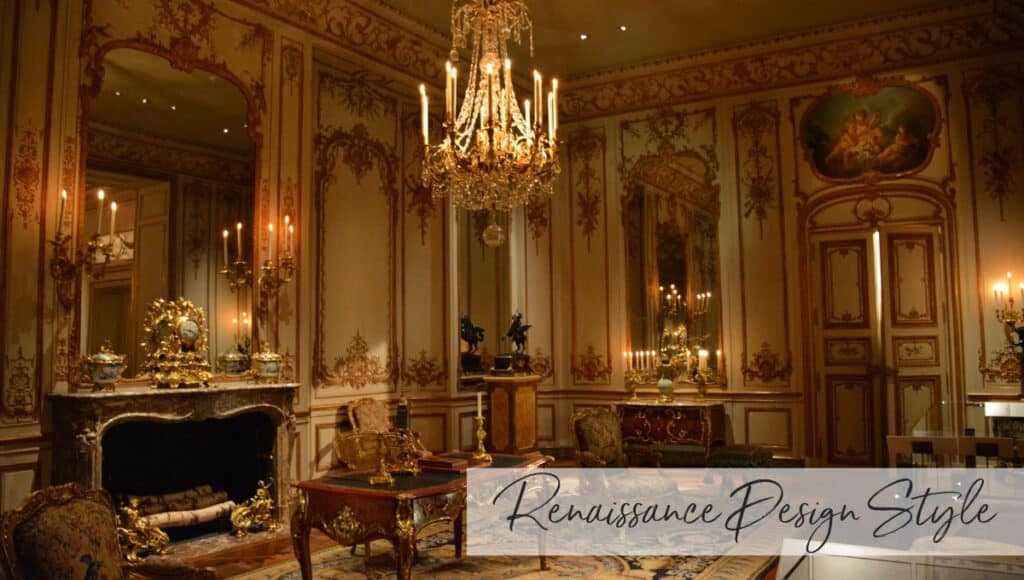 Renaissance
Renaissance décor brings together design elements from the middle ages, and of course, the Renaissance. This décor style is also luxurious and regal and is very similar to old world décor. This style differs in that the look becomes a little bit more modern for the time. The furniture is still ornate and embellished but begins to become a little more sleek. Trims and wallpapers start to come into style, however, tapestries and rich colors and prints for rugs and curtains still remain. In this style, columns and arches come into popularity to bring this look together. Accented with art and pillows made of velvet or silk, this look comes together.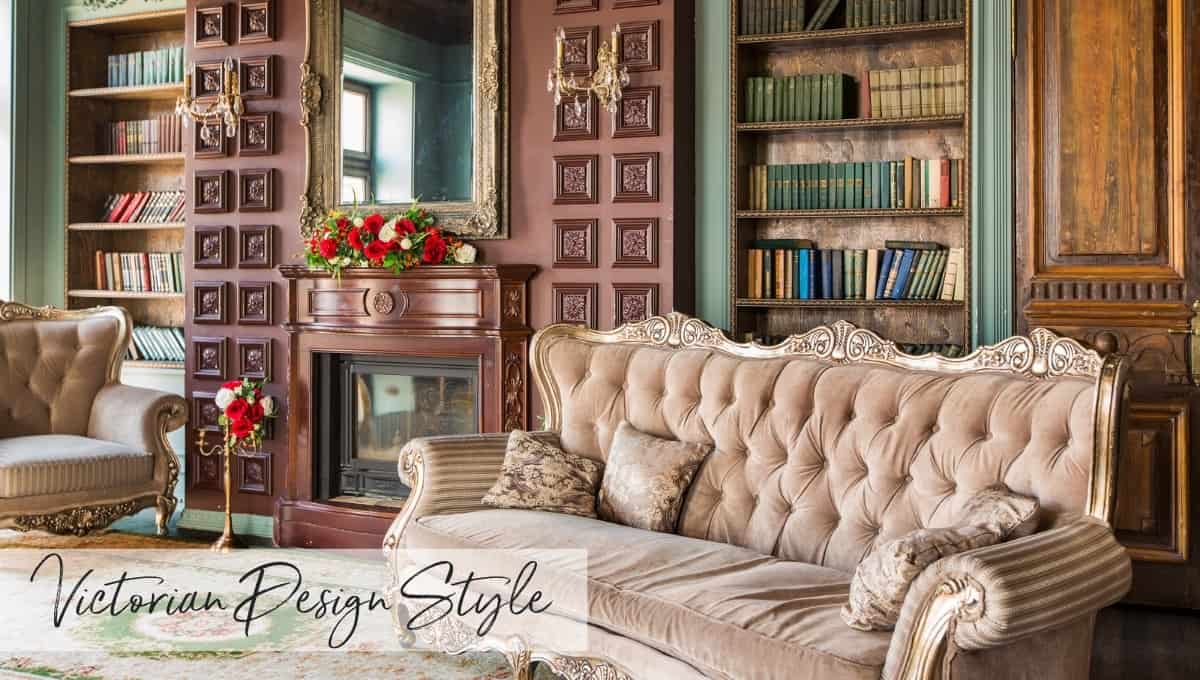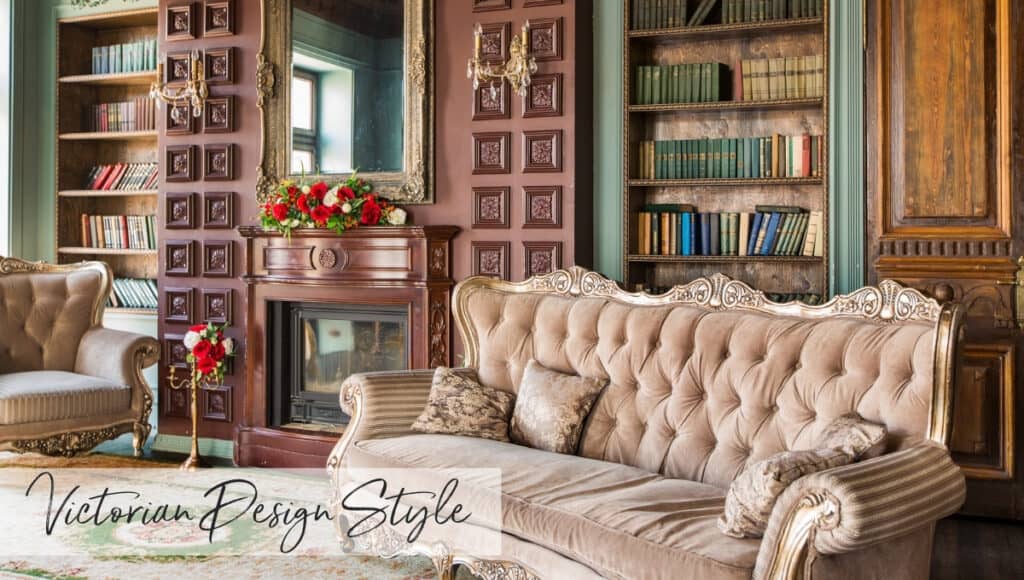 Victorian
Victorian décor style is yet another style of rich colors that has many elements of old world and Renaissance décor. Jewel tones on walls, like ruby and sapphire, bring about feelings of warmth and richness. Marble becomes a key factor in material, and fabrics like velvet are meant to bring comfort to the room. This décor style very much focuses on the details like trims, molding and stained glass. Rich woods in terms of furniture are a main part of this style as well as wallpaper and drapery. Gold accents bring this style together.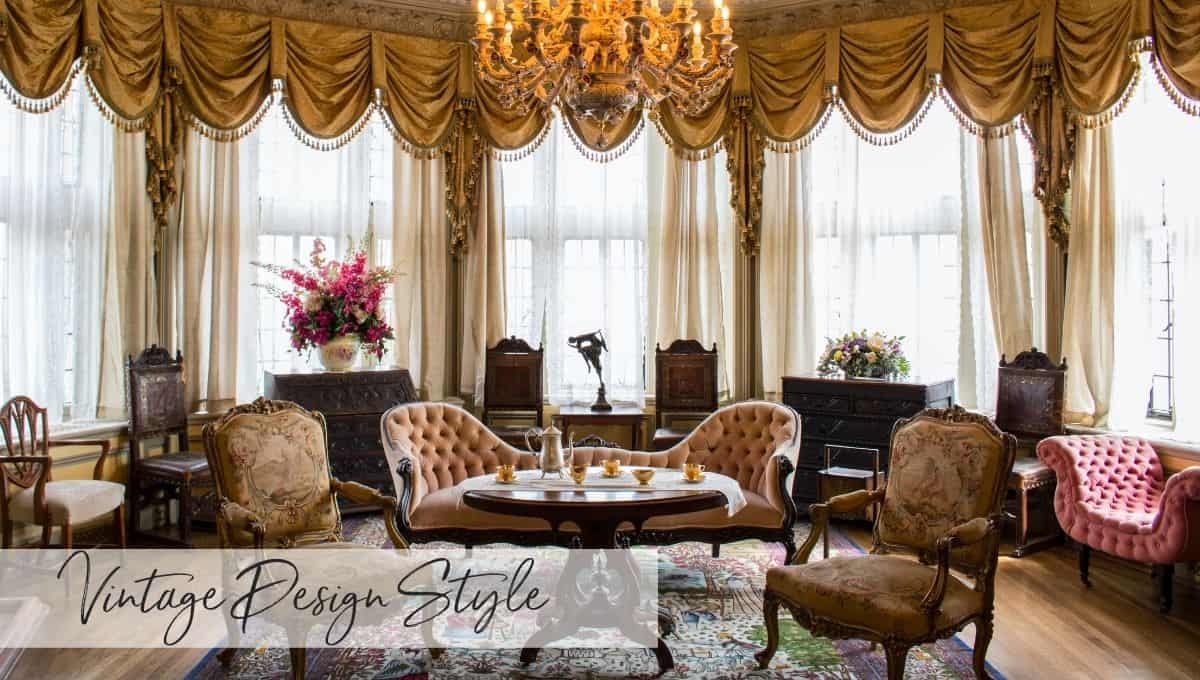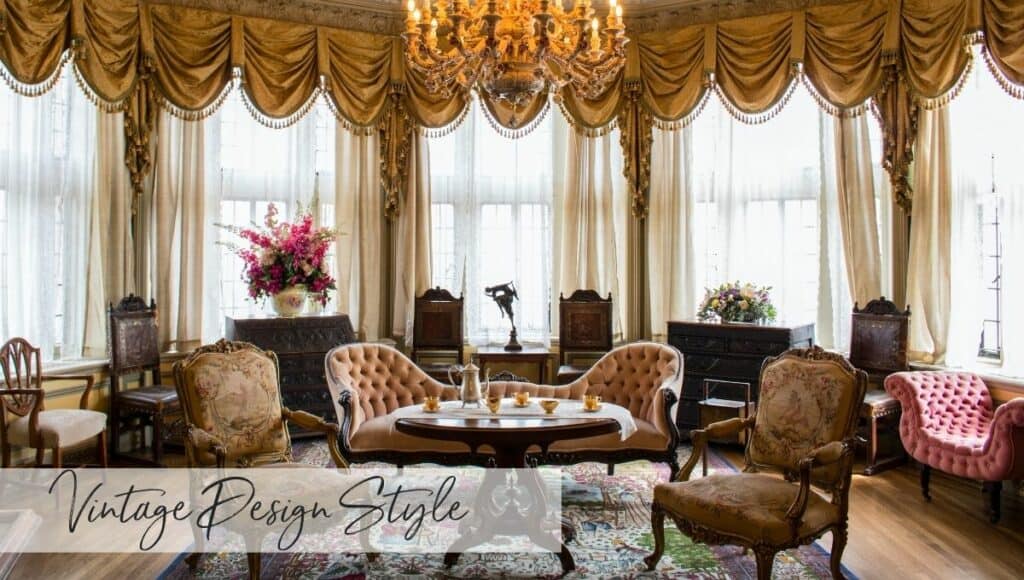 Vintage
Vintage décor is all about finding things that feel lived in, in the best kind of way. This décor style brings together a comfy, cozy feel. Starting with neutral or light colored walls, such as white, beige, light blue or grey, color comes into this look through the accent and furniture pieces. Often times, when trying to decorate in a vintage style, people tend to find older furniture pieces that are actually, well, vintage! Similar to rustic, some of these items can be worn, or actual collectors items. Items like books, old suitcases, globes or furniture can really make this look. Furniture can be distressed, but this is also a great way to mix styles and bring in pieces from a different design style. As long as its still cohesive and has a flow. 
Neoclassic
Neoclassical design blends the two worlds of classic and contemporary. This interior design style starts with contemporary elements such as neutral colors on the wall, including whites and creams. This look starts to bring forth simple and sleek elements within furniture and cabinets. However, classical design elements come out in accents, such as chairs, rugs, and smaller accent décor items. This includes marble, pops of rich color and fabrics and textures to bring the look of the room together. Art on the walls and furniture draped with comfortable throw blankets gives this new look an old world feel. 
British Colonial
British colonial décor brings together a time period with a certain culture. This is a time period when the British headed east and explored areas such as Africa, India and the Caribbean. The result is often a blend of British classic style and worldly cultural décor. To start, this look begins with neutral colors on the wall. Fresh whites and cream colored linens often spread the room. Bright white and sometimes sheer, or lightweight curtains are perfect for letting in natural light. Deep woods help accent this décor and other accents that bring about exploration and the quest for knowledge such as suitcases, globes, and books. Additional accents can be trinkets or pieces that bring about the feeling of adventure.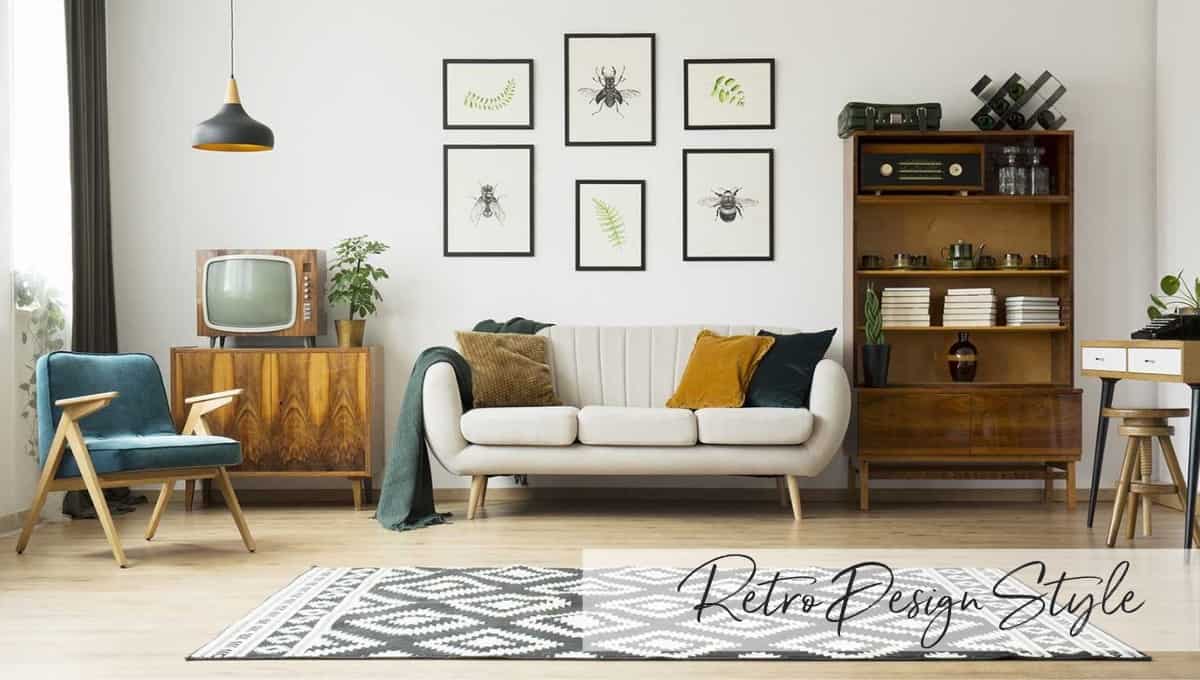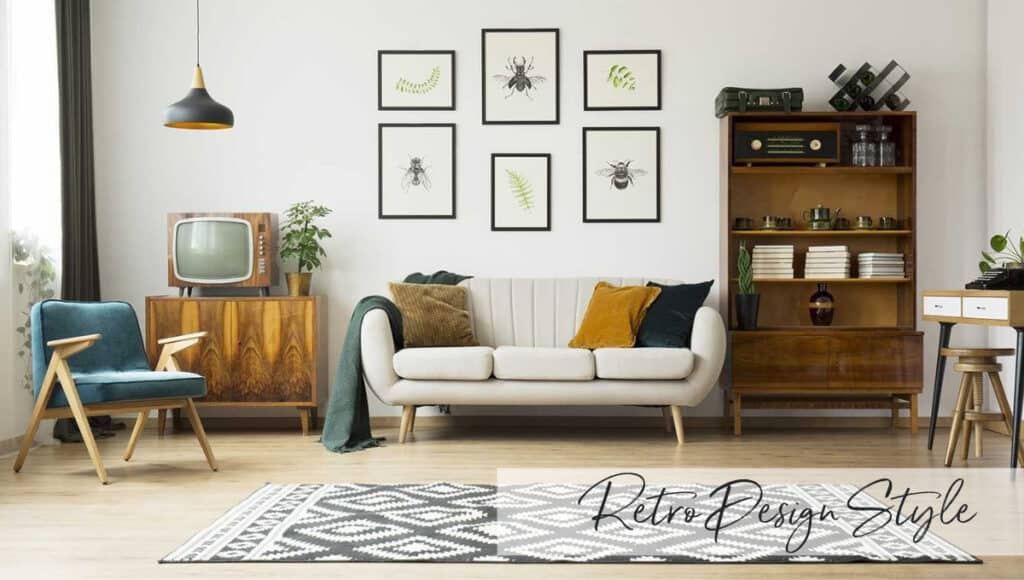 Retro
Retro style is where your sense of boldness really gets to go free. Inspired from the 50s, 60s and 70s, this looks brings back the feel of a time when patterns, colors, and excitement were key. This style is fun and lively, and starts with a retro color scheme, such as yellows, browns, greens, reds and indigo. Furniture pieces are often abstract and materials like plastic are very popular. When it comes to textures, this is a place to really go bold, such as vinyl, velvet and the ever popular shag, especially on carpets. Accent and lighting pieces can include tassels, beads, or sunbursts but are all things that are going to stand out in the crowd. 
When it comes to interior design styles, you don't have to stick with just one. As you can tell, many of these styles build off of one another, or are rooted in each other's bases and can be extremely complementary. When decorating your home, the goal is to find something that suits you, your taste and blends well together. Happy decorating!